2014-09-10
Asian Trekking team to Mt. Manaslu Expedition Autumn 2014 led by Johann Goger.
Expedition team members are

Johann Goger ( leader )
Mr. Manfred Gerhard Tod
Mr. Wolfgang Schweiger
Mr. Sebastian Fellner
Mr. Kenneth Olof Nordstrom
Mr. Florian Bruckner
Mr. Johannes Niederkofler.
Trekkers:

Mr. Roland Graf
Mr. Alois Otmar Kaiser.
Sherpa team:

Jaya Bahadur Tamang
Sukbhai Tamang
Sukre Ale
Padam Magar
The team left for Pokhara on 2 Sep and will also climb Larkya peak for acclimatization. Team is scheduled to reach base camp on 13 Sep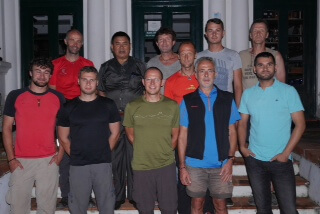 Asian Trekking family wishes to all expedition members and staffs for a safe and seccessful expedition to world's eighth highest Peak, Mt. Manaslu.