2016-04-14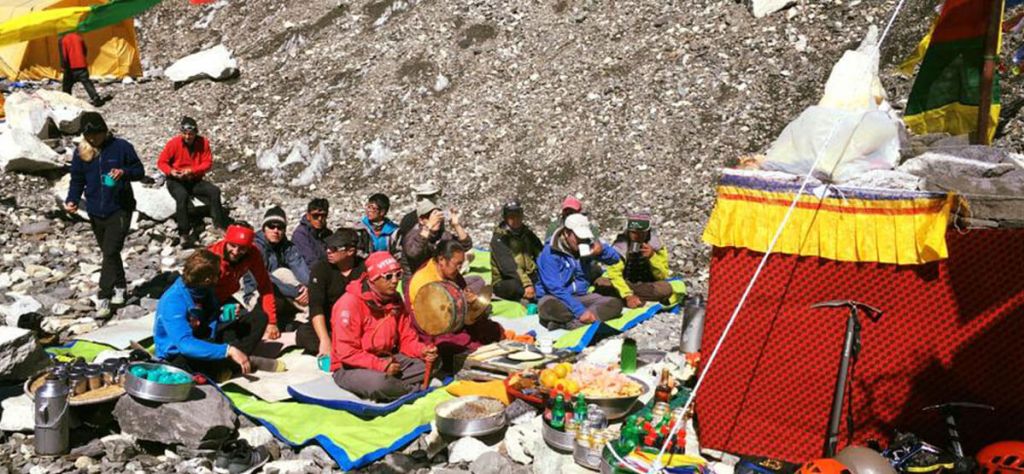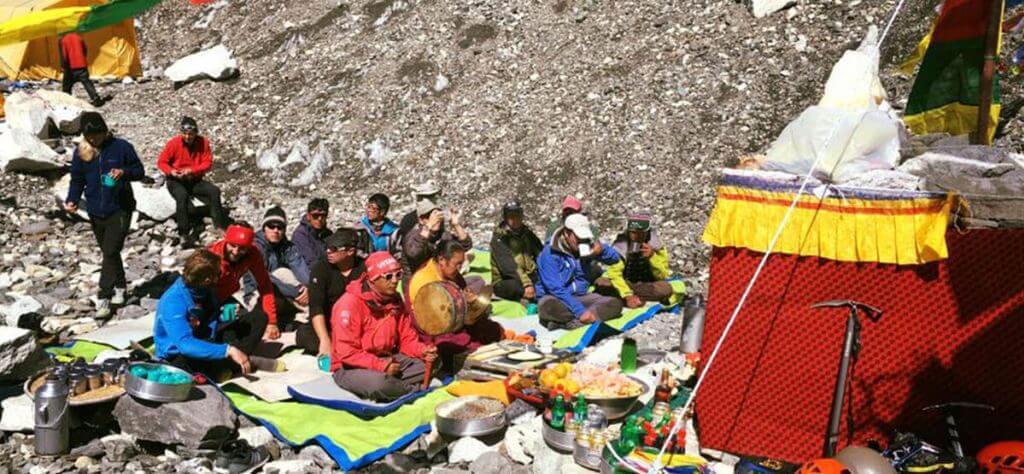 Eco Everest Expedition 2016
Eco Everest Expedition 2016
Asian Trekking is organising the Eco Everest Expedition (2016) under the leadership of expedition doctor Dr. Nima Namgyal Sherpa and sirdar Nanga Dorje Sherpa. The expedition will be following the Eco Everest Expedition 2008 Model and the focus will be on climbing in an eco-sensitive manner, bringing old garbage, in addition to their own, and all human waste produced on the mountain down to base camp for proper disposal. The expedition will once again be using highly successful alternative energy solutions like the Parabolic Solar Cookers, SteriPENs for water puirification, Clean Mountain Cans and Restop Bags For more updates on this expedition please keep visitng this page…..
21 May 2016:
Congratulations to the members of ECO-EVEREST EXPEDITION 2016 for their successful summit on Mt.Everest.
Melanie B.Southworth with Tenzing Dorjee Sherpa and Pemba Tshering Sherpa summited at 3:36 AM. Alyssa Azar and Fur Galgen Sherpa summited at 3:45 AM. Isaiah Paul Jensen and Tshering Tashi Sherpa summited at 4:20 AM. Brian Freeman, Pasang Rita Sherpa, Ratnesh Pandey and Sera Gyalzen Sherpa summited at 6:33 AM. Harsad K. Rao and Pasang Temba Sherpa summited at 8:08.
13 May 2016:
We have another good news to share. Jelly Veyt, Tahar Manai and Julian David Moutain successfully climbed Mt. Everest today at 10:31 am along with Dawa Tshering Bhote. and Lhakpa Nuru Sherpa. Congratulations!! to all of them.
12 May 2016:
David Liano Gonzalez from Mexico summited Everest today at 8:24 am along with his climibing sherpa Pasang Rita Sherpa.
Asian Trekking family extends hearty congratulatios to them and wishes for their safe descent.
11 May 2016:
Shera Gyalzen Sherpa; one of the High Altitude Sherpas of Eco Everest Expedition summited today at 5:05 pm nepali time. He was one of the sherpa of the rope fixing team. He along with other sherpa from different expedition teams including International Mountain Guides, Himalayan Experience, Madison Mountaineering, Asian Trekking, and Adventure consultant, Alpine Ascent, Himex, NCC, Arun Trek and Seven Summit made it to the top. This is the season's first summit on Mt. Everest by the rope fixing team after a gap of 2 consecutive years.
Congratulations to all the rope fixing team for the summit and safe return back to Base Camp.
9 May 2016:
The team members celebrated Isaiah's birthday. We also wish him Happy Birthday.
Brian and David are still in camp 2, Brian will come down to base camp tomorrow.
Isaiah, Jules, Tahar and Jelle will go up to camp 2 tomorrow. The weather seems promising and if it stays like that and the route is fixed they will go for a summit push on the 13th or 14th of May. We hope for the good weather conditions.
8 May 2016:
Melanie arrived at the base camp and will go up to camp 1 tomorrow. From there she will go up to camp 2 and 3 in the following days.
7 May 2016:
All the team members are in base camp waiting and relaxing for a good weather window. Most of the team members are acclimatised.
Brian and David will go up for their last rotation this night. Good luck to them!
Melanie is on her way to EBC from Namche.
6 May 2016:
Andy, Isaiah, Ian and Hazel arrived in EBC after a successful trip to camp 3.
4 May 2016:
Andy, Ian and Hazel are climbing up to camp 2 today from camp 1.
David and Jelle arrived in base camp. The ropes up to camp 4 aren't fixed yet so they are waiting. Once the ropes are fixed they will go up to camp 4 for last acclimatisation. That should be in a couple of days.
3 May 2016:
Sunita, Julian, Tahar, Anish, Christof and Harshad arrived in EBC after finishing their last acclimatisation trip up to camp 3. They are now ready and resting in EBC for the next weather window to go up.
Isaiah, Karsten and Alyssa arrived in camp 2. They have a rest day today and will go up to camp 3 tomorrow if weather permits.
28 April 2016:
Carsten, Andy and Isaiah arrived safely at the base camp after a successful acclimatization trip to camp 2.
Alyssa, Tahar, Julian, Sunita, Harshad and Jelle are preparing for another rotation up to camp 3. This will take 3-5 days depending on the conditions.
The route to camp 3 is fixed and tomorrow the route from camp 3 to 4 will be fixed if weather conditions allow.
The other team members stay in base camp to rest for a couple of days before going for their last rotation.
27 April 2016:
Today is another restday for most of the team members.
Anish and Ratnesh arrived yesterday and will prepare for a first time going up the ice fall in the next couple of days. David, Brian and Christof arrived in EBC after spending several days in camp 2.
Isaiah and Andy went up to camp 2 and will sleep in camp 1 again this night to return to EBC tomorrow.
Carsten is staying in camp 2 for another night before heading to EBC tomorrow.
25 April 2016:
Melane Southworth, Hazel Gibbs and Ian Gibbs summited Island Peak today.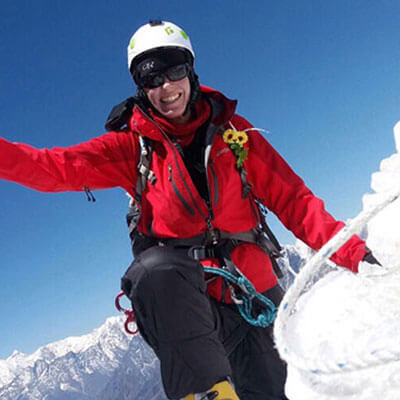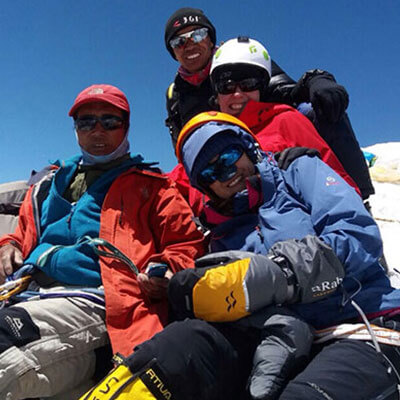 24 April 2016:
The team members completed the first rotation of Camp 1 and Camp 2.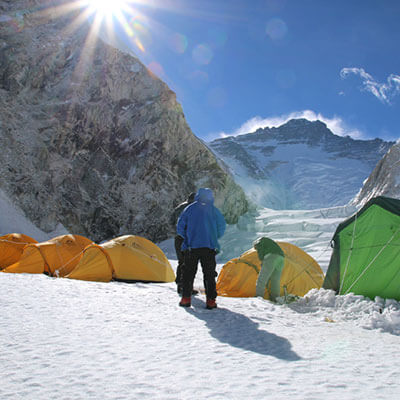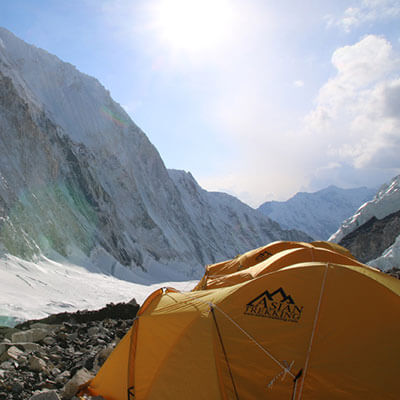 21 April 2016:
This morning, Puja ceremony was held at the base camp. The members and sherpas attended the ceremony and after Puja they prepared their gears to leave EBCt. They will leave at 4am to camp 1 and spend 2 nights there, making one rotation to camp 2.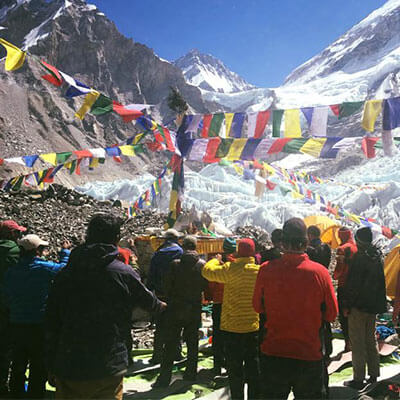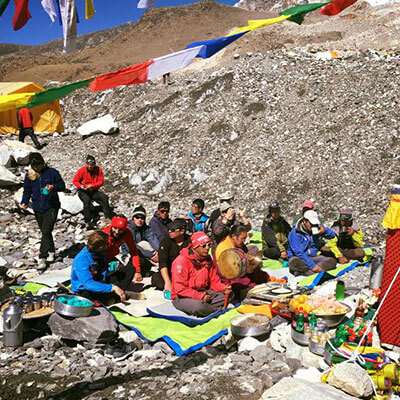 20 April 2016:
Sunita and Harshad reached the summit of Lobuche today. Congratulations to them!! They are now safe and sound at EBC.
18 April 2016:
Today the team members went up the ice fall for acclimatisation. They went up to an altitude of around 5800-5900m. The whole trip was successful and it will give confidence for the ongoing climbs!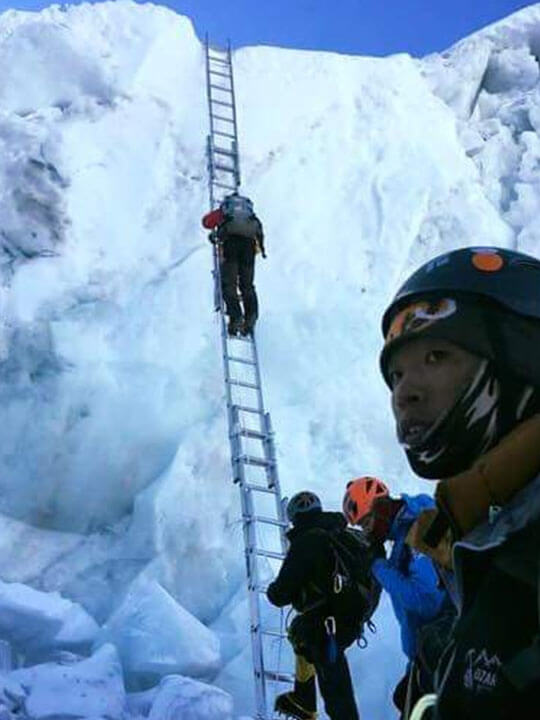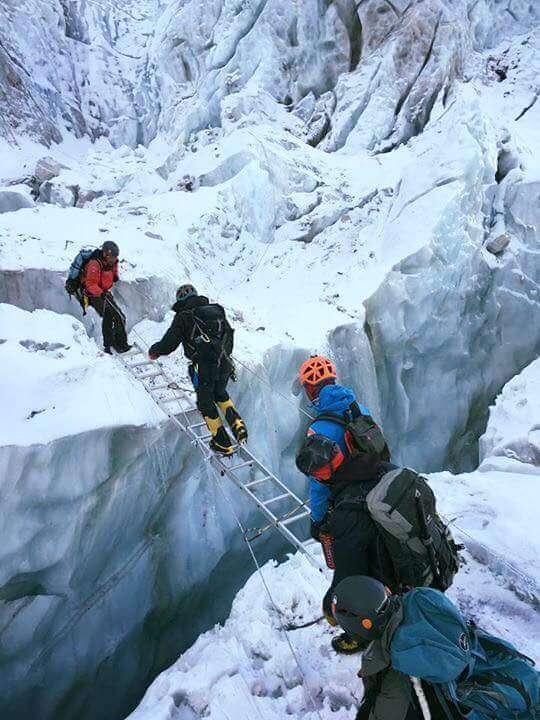 The next days they will be having some rest and preparing for the Puja.
15 April 2016:
Today the members had a meeting with the sherpas and staffs of Asian trekking. Everybody is very excited and motivated for the ongoing climb.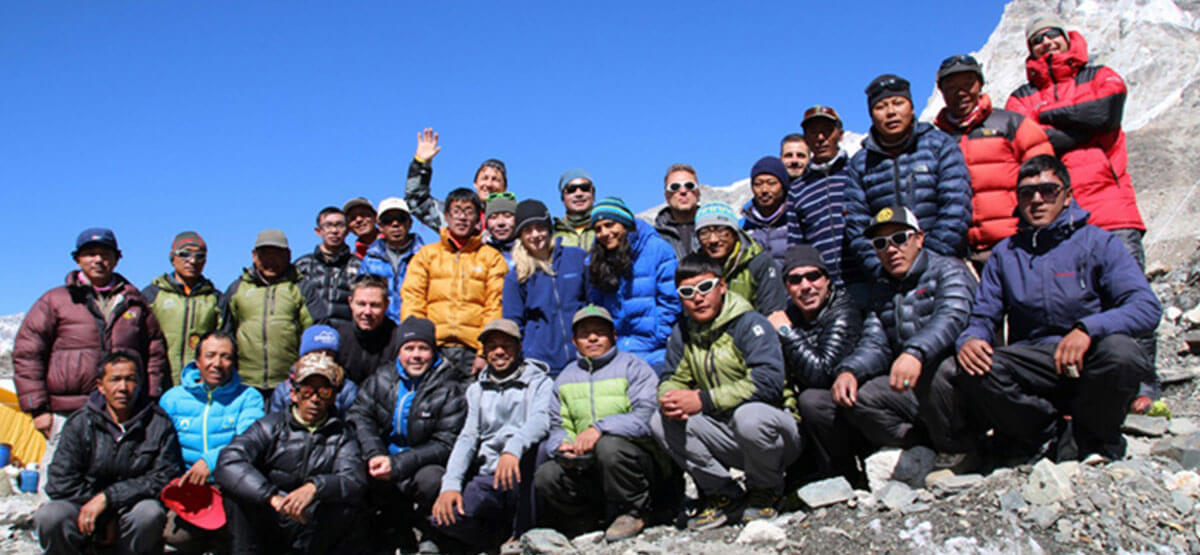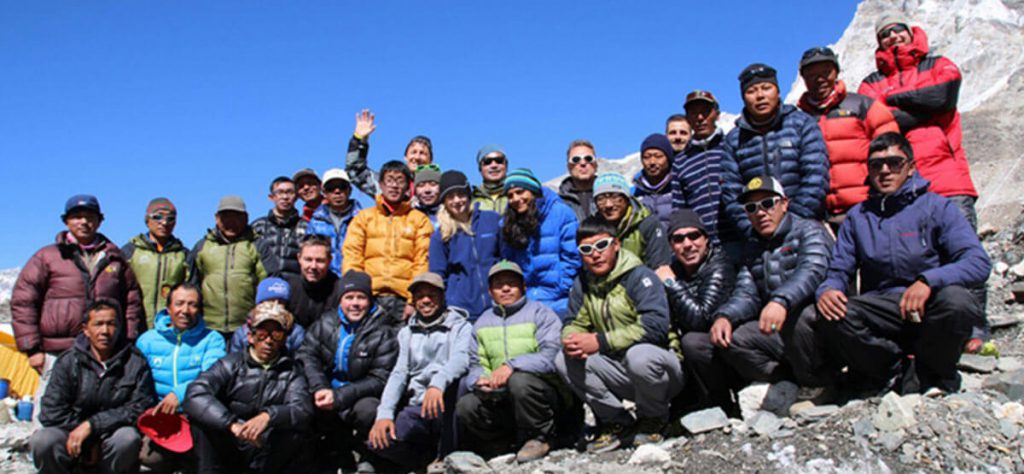 In the afternoon they had training in the ice fall to prepare for the first rotation.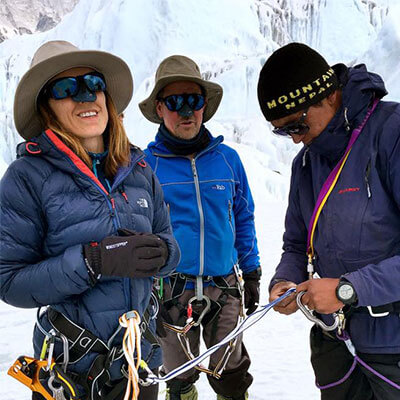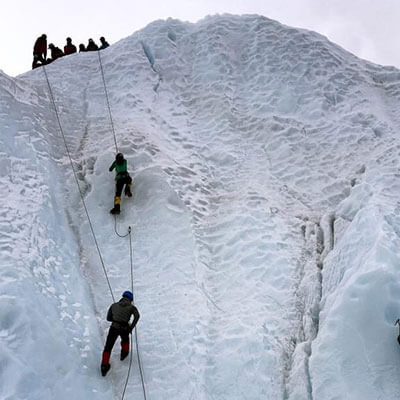 14 April 2016:
The big part of the group·have reached EBC today after short acclimatizing treks through the Khumbu region as per the schedule program. ·They all are in great shape and highly motivated. Few members are still on their way to BC and will be reaching EBC on their own independent schedule after climbing some peaks as part of their Acclimatization.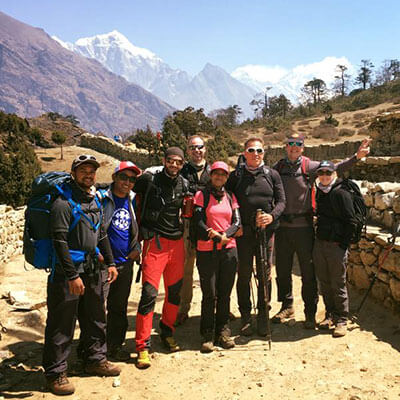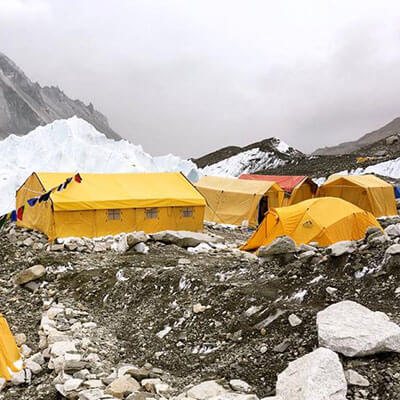 6 April 2016:
The members of Asian Trekking's Eco Everest expedition left for Everest on 6th April 14, 2016 and are supposed to reach Khumjun on 9 April, 2016.