We have organised more than 3,000 personalised treks and expedition since 1982, including 286 climbing expeditions on Mt. Everest.
We are the number 1 most experienced expedition company in the world. No other company has as much experience as us. We have organised more than 3,000 personalised expeditions and treks since 1982, including 286 climbing expeditions on Mount Everest.
Mount Everest expedition
Since 1953 when the first person set foot on the pinnacle of the World many climbers have attempted to achieve the same goal. Some of them succeeded others did not manage to cope with their own weaknesses or harsh weather conditions. Unfortunately many were not able to withstand difficulties and even lost their lives. Climbing Mount Everest and reaching its summit is a dream of every serious climber, and they are able to sacrifice a lot of time and money to succeed. None, however, is able to do that alone and needs help of many other people they may rely on. Those people are organizers and experienced guides who take responsibility for Mt Everest expedition preparations as well as climbers' safety.
If you are such a mountaineering lover overwhelmed by one thought only, and you have been preparing for a long time to go on Everest expedition your only choice should be Asian Trekking. We are an expedition company that has been operating since 1982 and has helped lots of experienced climbers make their dreams come true. It is a number one licensed company that has led hundreds expeditions on Mount Everest and many more on other eight- thousanders, let alone personalized quests and treks which can be counted in thousands.
Climb Mount Everest with the best
During the years of our operation we have developed our skills and now we are able to organize any expedition and support mountaineers providing them with everything they need except for personal climbing equipment. Not only do we specialize in legal organization of our expeditions but also give climbers the opportunity to achieve success as painlessly as it is possible. Are you interested in our services and you want to fulfil your dream of standing on Mount Everest peak? We are there for you, so just enrol on one of Everest expeditions in the near future, and we do our best to help you get to the summit which will be one of your most wonderful experiences.
Client Requirements
It is worth knowing that Asian Trekking got a licence from the Ministry of Culture, Tourism and Civil Aviation of Government of Nepal and can organize expeditions in the Himalayas. There are not any foreign companies that can get such a permit or can operate without it. Only Nepalese companies are allowed to provide all kind of support for mountaineers. Even if you decide to choose any western company, it is allowed to operate through a Nepalese one and you will have to pay extra for intermediaries. That is why it is better to contact us directly and another reason is the fact, that we take responsibility for your safety, and provide you with all legal, administrative, logistical, guiding and support services once you get off the plane.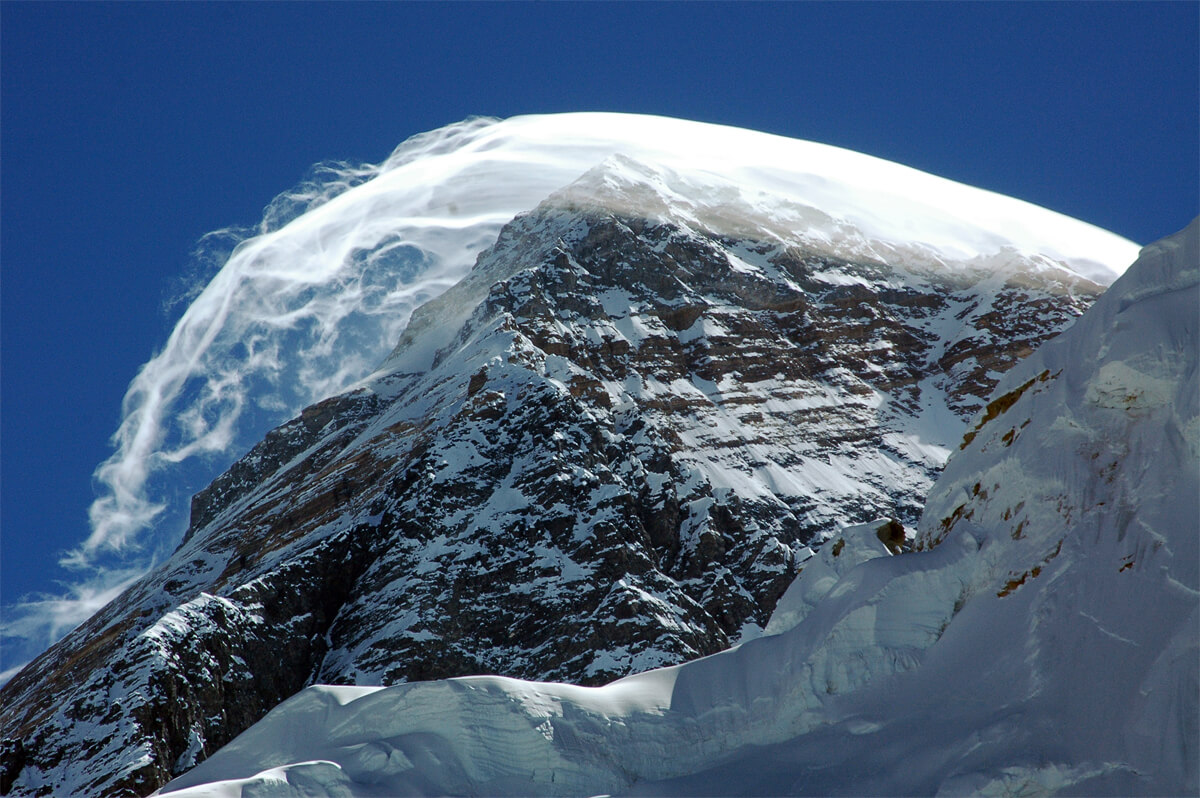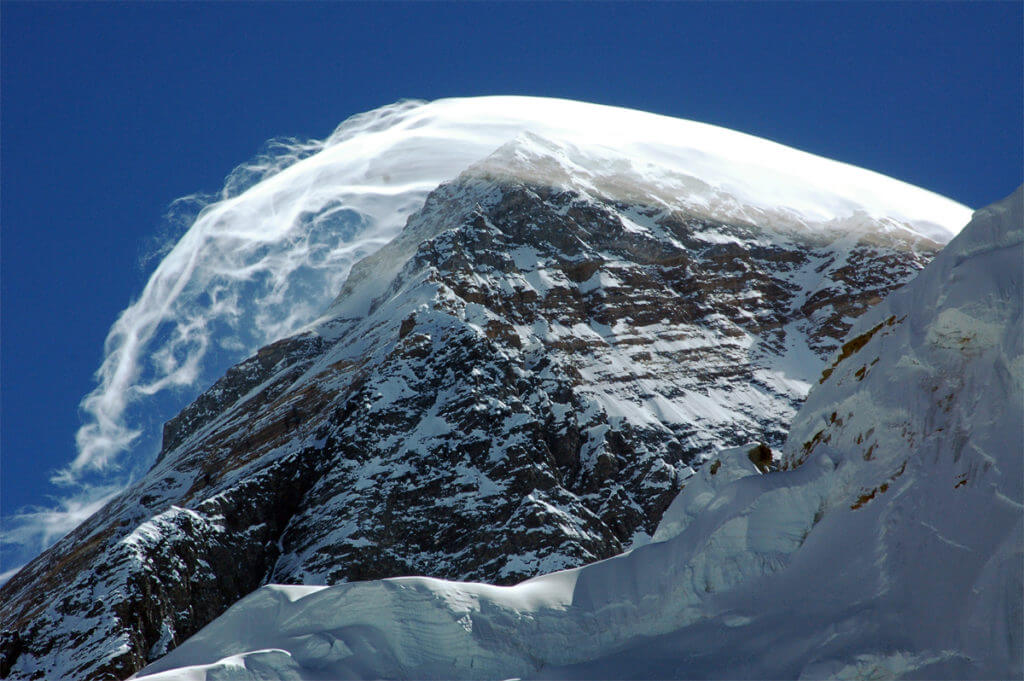 Difficulty to climb Everest
As it is the most difficult to get to the top Himalayan mountain, Mount Everest is also the biggest dream of many climbers who want to finish their career with such a climbing experience that requires overcoming the obstacles that their bodies build. However, they also have to understand the risk and have some experience. Climbing Everest is an enterprise that has to be prepared in detail but before climbers head for the Himalayas they have to devote a long time to build stamina and train to get used to harsh conditions such as low temperatures and low-oxygen environment at higher altitudes. It is worth remembering, that the most difficult it is to get by in the "death zone" at 8 000 metres above the sea level. The body starts to rebel against the lack of oxygen. Even the strongest climbers may experience impaired judgement, strokes, heart attacks or difficult to overcome altitude sickness. Nevertheless, every year some mountaineers decide to climb Mount Everest to prove themselves they are able to do it. To achieve the set goal climbers have to acclimate to the lower rate of oxygen in the air before they attempt to get to the peak. It can be done by going on a few trips from Everest Base Camp each time higher. Doing this they allow their body to produce more haemoglobin that carries oxygen from lungs to the rest of the body preventing it from dying. That is why every Mount Everest expedition has to be properly prepared, and this can only be done right by such an experienced company as Asian Trekking whose employees are Sherpa guides coming from the community known to have spent almost their whole lives trekking in the Himalayas.
What is included in the climbing price?
Asian Trekking takes care of Mt Everest expedition members from the moment they come to Kathmandu. They are accommodated for 3 nights in 4 or 5-star hotel with breakfast. During the first day they attend welcome dinner with a founder and a chairman of the company Mr Ang Tshering Sherpa who is also a former President of Nepal Mountaineering Association and an honorary member of UIAA. Mr Dawa Steven Sherpa the company's CEO will also be present. When the expedition finishes, its members will also stay in the hotel for three nights before they return home. Of course there will be transfer from and to the airport as well.
As it comes to the expedition organization, enrolled climbers may expect as follows:
an assistant and at the same time a guide for each climber who will carry all food and equipment to high camps. The person is a certified by Nepal Mountaineering Association High Altitude Sherpa who has already been at the summit at least once,
every group of four will be assisted by a certified veteran Sherpa who has summited the mountain at least 5 times,
at the Base Camp climber will have access to a doctor working for Asian Trekking and to any other medical services,
each climber will get a single tent lit by solar power, a mattress and a pillow,
all climbers and assistants will be given high altitude tents,
fuel for higher camps and food prepared by a cook and a cook boy,
CE certified oxygen cylinders with British top out mask and regulator,
ropes, ice bars, ice screws,
a maximum 60 kg climbing equipment will be carried on the way Kathmandu – Lukla – Base Camp – Katmandu by porters,
restop toilet bags will be given to climbers and Sherpas. They are to be carried off the mountain.
The expedition members will also be given:
solar panels for charging mobile devices,
access to Sat Phone,
access to the Internet connection with nominal charge.


Not only does Asian Trekking organize group expeditions but also carefully tailored to a climber's needs personal treks. We try to make our clients happy so it is possible to have some extra facilities on request like a large personal tent with a wooden platform and carpets, a private kitchen with a professional cook, a special dining tent, a private toilet and even a shower tent. We can also arrange photo and filming sessions as well as a helicopter flight from and to Kathmandu.
Our company organizes climbing expeditions on other eight-thousanders as well as treks along beautiful treks
Asian Trekking does care about the environment and is disappointed with the fact, that many climbers leave rubbish on the way to the summit. That is why we organize cleaning expeditions thanks to which tones of waste have been carried out of the mountains. We also try to raise awareness of climate change among local people and convince them to care about the nature. Our company is involved in many projects that help both the environment and the people. We employ a lot of them to support their economy and in fact they are the best for the job, as they know the mountains and how to survive in them. But for their skills, a lot of people had not been able to make their dreams come true or even had lost their lives.
When is the best time to climb Mount Everest?
Some experienced climbers say that there is always time to do it, however, the most friendly period for such climbing experience is from April to June when so called "climbing window" opens. It is the best time to attempt an ascent to the summit. This is the time when the nature awakens so the trail to the Base Camp can be very interesting taking a biodiversity of plants into consideration. In May however, which is said to be the warmest month in the region, some clouds may appear that deprive you of beautiful views. In fact, it is almost impossible to predict the weather but if you do not like cold, may is an ideal month. That is the reason why every Everest expedition organized by us starts in April and finishes at the end of May or at the beginning of June.
How long does it take to climb Everest?
Climbing on "the roof of the world" as Everest is sometimes called is not a calm trekking. It definitely does not mean a stroll along picturesque snow-covered slopes and for inexperienced or with a minimum risk of an illness people it might be even dangerous. That is why acclimatization in the Base Camp may be quite long and last up to 40 days. During that time climbers are cared for by Sherpas until their organisms do not get used to the tension and lack of oxygen. Only then is it possible to continue climbing. Usually 50th day is a summit day the most exciting and challenging part of the ascent, especially if the weather is nice. On average, as far as tourists are concerned, the whole expedition lasts about 58 days from the arrival to Kathmandu to summiting the peak. When everything is settled and the climbers feel well, the ascent to the top takes about seven days. The way back to the Base Camp takes about 5 days.
Why should Asian Trekking be chosen for climbing Everest?
Not only do we have the richest, long-lasting experience and a lot of knowledge about the conditions in the mountains, but we also provide the high class services both for skilful mountaineers who want to climb Everest and crown their climbing experience with conquering the peak and for tourist attracted by the majestic beauty of the Himalayas. Having been in the business for such a long time our company contributed to the tourism development. During our operation we have specialized in fulfilling even the most demanding clients' expectations, at the same time taking care about their descending safe and sound. No other company can provide mountain lovers with such excellent services as we do.
Good to know
Asian Trekking is a Nepali expedition operating company established 41 years ago. According to Paragraph 26 of the Tourism Act (2035), no foreign expedition teams or companies are allowed to provide expedition services in Nepal directly and any foreign company must work through a Nepali company licensed by the Ministry of Culture, Tourism and Civil Aviation, Government of Nepal. As such, Nepali companies are the ones that provide all the legal, administrative, logistical, guiding and support services in Nepal, while also being legally responsible for the safe and responsible conduct of the expeditions. Booking through foreign expedition companies naturally makes the cost to the customer higher due to the extra layer of administration and profit margins, without necessarily adding any extra value.
Preparation for an Everest Climb

So you have the desire to climb the legendary Mount Everest? Conquering one of the most challenging peaks in the world takes a significant amount of preparation. If you want to take part in an Everest expedition, you need to meet certain requirements:

have an appropriate level of physical fitness,
be experienced in dealing with high altitudes,
have advanced technical climbing skills,
be prepared mentally.

Pre-trip training

Climbing Mount Everest is extremely strenuous for the body. Physical preparation and technical knowledge is absolutely crucial for success in a Mount Everest expedition. We suggest engaging a professional personal coach for pre-expedition fitness build-up, but it is possible to do it on your own. There are three significant areas in which you need to be especially well-prepared before you embark on such a challenge as climbing an eight-thousander. Read on to find out what they are.

Physical fitness

We recommend starting your physical training at least 6 months before climbing Mount Everest. It is best to start even as early as 9 months before. While training, focus on the critical muscle groups:

legs: thighs and calves,
upper body, the back in particular.

Incorporating cardio sets into your exercise plan is also a must: you need to build strength, but do not forget about stamina. A very effective way of training for such expeditions is trekking in the mountains with a backpack. Gradually increase the distance, the weight of your backpack and the altitude. Keep track of all the measures, at the same time recording how fast you recover.

Training for altitude

This area is connected to the previous one, but being in an excellent physical condition does not mean you will not have any altitude-related problems. Consequently, you need to work on enduring high altitude conditions separately before you climb Mount Everest. One way to do it is using hyperbaric chambers. But having previous experience with climbing peaks over 7,000 meters gives you considerable advantage here.

Since the body lacks oxygen, its reactions are unpleasant and sometimes dangerous. You can experience various symptoms of altitude sickness, for example lack of appetite, which can be deadly, since the body needs a lot more calories than it usually does. Lack of oxygen negatively affects your brain as well, impairing your mental abilities. If you have ascended a peak of similar altitude, you already know how your organism handles the demands of the thin air and can prepare better to fight the symptoms.

Technical climbing skills and knowledge

If you want to climb Mount Everest safely, you should have considerable knowledge and technical skills. This expedition includes major technical difficulties, such as ice sections over 45 degrees grade or steep rock sections. One cannot forget about the so-called death zone, that is mountain terrain over 8,000 meters high. Climbing experience on different surfaces is required, as well as familiarity with mountaineering gear. The absolute basics are:

crampons,
ice axe,
fixed lines,
bottled oxygen.

You will have our team members' expertise at hand, but generally the rule is that expedition members need to be self-sufficient and reliable.

Acclimatization before climbing Mount Everest

Proper acclimatization is equally important as physical fitness preparation. You need to let your body slowly get used to the altitude conditions. Exposing it immediately to the low-oxygen air demands means putting yourself in great risk of dangerous sickness. Our Mount Everest expedition gives you the chance to accustom to lower rates of air by going on several shorter treks first. The treks start off from the base camp and the target altitude is higher each time. A solid basic principle is to sleep a little lower than the point you have climbed, so your body can rest and relax in less demanding conditions. We do not recommend taking any medicines to boost the body's abilities.

Psychological preparation

Mental stability and resilience are sometimes omitted during preparations to climb Mount Everest, or any other arduous expedition. The fact of the matter is, climbers need to be very motivated and mentally tough to endure the ascent. Take into account that you will have to face extreme weather conditions, intense physical strain, separation from your loved ones. This makes teamwork essential: communicate with other team members to get help when needed, or offer it to others. The whole team shares the aim of ascending the summit and coming back safely.

What Asian Trekking arranges for you

Whn planning the journey with Asian Trekking, you do not need to worry about other things. As soon as you arrive in Kathmandu, you will be welcomed at the airport, accommodated and fed. Your equipment will be prepared and then carried for you. We also take care of all the legal and administrative arrangements before the climb. We are responsible for planning and logistics as well, so that you can concentrate on getting yourself ready to go on an adventure of a lifetime.
Itinerary

The overall experience of climbing Mount Everest since arriving in Kathmandu lasts around 58 days, which makes it around 9 weeks. Still, please keep in mind that during such an expedition, the weather can be unpredictable and sometimes handicap the climb. Days 3-12 are trekking days and after that, the climbing period from the Everest base camp starts. This period is predicted to last up about until day 51.

The remaining week is spent on clearing the base camp and coming back to the starting point, Kathmandu. However, expedition members need to remember that the end of the climbing and trekking does not mean they can return to normal life at once. The body needs time to rest and get accustomed to different conditions again. It is also vital to give your mind time to process what has happened on the expedition and prepare for everyday reality. This can take as long as a few weeks, or even months.

Arrival in Kathmandu

As soon as the expedition members set foot at the airport in Kathmandu, our staff is there to pick them up, so you do not need to worry about transport. The accommodation is already arranged as well: the climbers stay for three nights in a 4- or 5-star hotel with breakfasts included. There is a welcome dinner, attended by all the team members, Ang Tshering Sherpa – the founder of Asian Trekking, as well as the company's CEO – Dawa Steven Sherpa. The three days spent in Kathmandu are also dedicated to carry out any official procedures required before beginning the journey. Once the personal mountaineering gear is completed, the team is ready to head out on a trek to Mount Everest base camp. We start by flying from Kathmandu to Lukla. The flight lasts about 30 minutes and offers an exciting spectacle of the Himalayan views.

Trek in and initial acclimatization time

In Lukla, the trek to Everest base camp through the Khumbu begins. The first stop is Phakding, at 2,160 meters above the sea. The village lies in the valley of Dudh Kosi mountain river, which we will cross. This trek usually lasts a few hours and the route is well-maintained. On day 5, the team sets off to reach the legendary gateway to the Himalayas: Namche Bazar. There, at a considerably higher altitude than in Phakding, we stop for an acclimatization day. Next, around day 7, the team treks to Khumjung, known as the location of the school founded by Edmund Hillary. Then the route leads us to Tengboche Monastery. The day after, the expedition crosses the 4,000-meter threshold and arrives in Dingboche. The last stop before reaching the Everest base camp is Lobuche, where the party stops for another rest day. The team is supposed to arrive at the fully operational base camp about day 12.

Local attractions and stunning mountainscapes

Trekking at the foot of the Himalayas, you will have the opportunity to admire scenic panoramas and beautiful wild nature. It is a great privilege to experience close views of the Himalayan ranges, including the highest mountain in the world. Parts of this region are listed as UNESCO World Heritage Sites. The expedition is also a unique chance to observe local communities and get to know their traditions and beliefs. In Namche Bazar, for example, there is a Sherpa Culture Museum you can visit. Sherpas are the best representatives of the human connection to the Himalayas, as well as the embodiment of mountain people. There are no better experts in conquering these famous peaks.

Climbing and summit ascent

The climbing period starts a day after arriving at the camp. Base camp acclimatization may take even up to around 40 days because of the considerable altitudes. During this period, the team spends a few nights in different camps, venturing forth to reach higher and higher altitude levels in the daylight. Reconnaissance trips to the icefall may take place, depending on route conditions. Rest days are also planned before the summit attack. The attempt itself should be made around day 50. It is an unrivalled experience. Both the elation you feel once getting close to reaching the summit and – provided there is good weather – the views from the so-called "roof of the world".

Returning to Kathmandu

The way back from Everest starts with base camp clean-up approximately around day 52 of the expedition. Asian Trekking is committed to maintaining the Himalayan environment as clean as possible. It is a sign of respect for the whole team, as well as other climbers, to contribute to cleaning the Everest base camp. Afterwards, we take three treks on three consecutive days to get to Lukla, overnighting in lodges in Pheriche, Namche Bazar and Lukla itself. While descending, some climbers like to take their time to appreciate the local communities' atmosphere. From Lukla, the party takes a flight back to Nepal's capital city and you are transferred back to your hotel to rest and recuperate. As the expedition progresses, the schedule is adjusted. It is worth remembering when you purchase your flight options – changeable reservations are the best choice. After you have rested, you can come back home, proud and satisfied.
Sherpas

A brief overview of Sherpa life

The word "Sherpa" has different definitions nowadays. Some people use it as a synonym of high altitude mountain porters. Others use it to describe people of exquisite mountaineering skills, assisting western Mount Everest expeditions, as well as other mountain ascents in the Himalayas. But originally, the term designated an ethnic group of people who migrated from eastern parts of Tibet from the fifteenth century. They settled at the foot of the Himalayas in Nepal, in the Khumbu region.

Traditionally, their way of life was either farming or trading. The Himalayas were revered and the locals had not climbed them until the westerners started. Many Sherpas have made climbing their source of living by now. In fact, their guidance, knowledge and experience have been crucial to the success of many ascents, including the famous first Mount Everest conquest with Sir Edmund Hillary. Sherpas are known for their positive attitude to life and hospitality.

Sherpas on Mount Everest Experience and respect for the mountains

Sherpas are very respectful towards the Himalayas, treating the mountains as god-like entities. They are very careful not to exasperate them with e.g. leaving rubbish on the slopes. Asian Trekking, in particular, has organized eco expeditions, for example on Mount Everest. During these we collect kilograms of rubbish and bring it back down.

Sherpa climbing experience is of the utmost importance during expeditions on the highest mountains. They know how to set up camps effectively, arrange even loads for porters and see to the whole party's safety. Only the most seasoned Sherpas climb higher than base camp, to ensure the client's protection in the harshest conditions.

Exceptional physical abilities

Why are Sherpas so good at climbing in high-altitudes? They are a lot less susceptible to acute mountain sickness and other altitude-related health problems than lowlanders going on expeditions. Scientists have discovered that the secret lies in their genetic code. Sherpas' blood is thinner and their blood vessels wider. Hence, they perform better in oxygen shortage.

Asian Trekking and Sherpas

Asian Trekking has been established by Ang Tshering Sherpa, whose life has always been connected to the Himalayas. The current CEO, Dawa Steven Sherpa, has led as many as 150 climbers to Mount Everest, the roof of the world. The company literally would not exist without Sherpas. The most experienced Sherpa guides cooperate with us every climbing season. Going on an expedition with Asian Trekking, you can be sure you are in good hands.
See Also:
EVEREST TAILOR MADE EXPEDITION
Do you want more adrenaline? Check skydiving from Mt Everest!