2014-04-16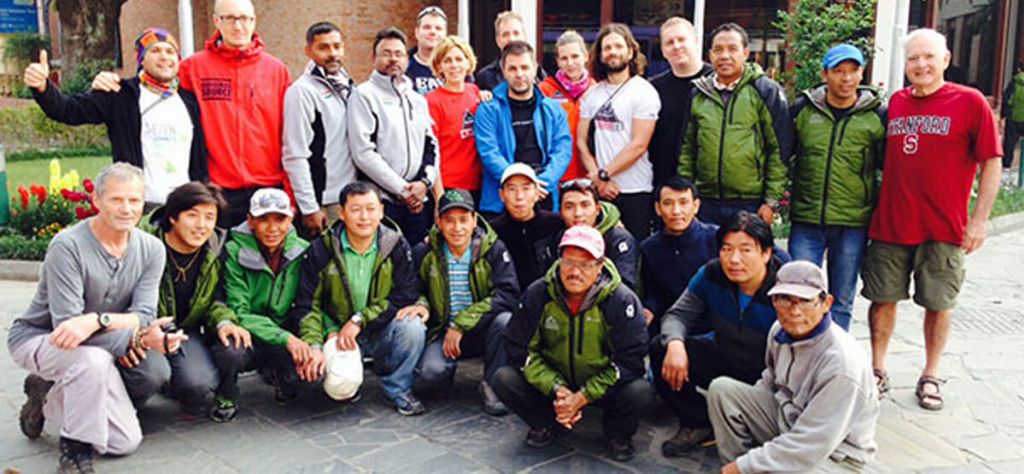 Breaking News – 25th May 2014 Bill Burke summits Mt. Everest at 9:45 AM (Nepali Time) along with Gyaluk Sherpa and Mingma Nuru Sherpa.
Ryszard Pawlowski from Poland summitted at 7:38 AM (Nepali Time) with Pasang Sherpa.
Indian Climbers Baidya Biplab, Debabbrata Mukherjee along with Ngima Kanchha Sherpa and Pemba Tenji Sherpa also summitted at 9:40 AM (Nepali Time).

Expedition Update – 24th May 2014
Dr. Atanas Skatov and Phur Gyaljen Sherpa of International Everest Expedition summitted today at 5:50 AM (Nepali Time). Both Climbers are in good condition and descending back to camp 3.
Asian Trekkings International group to Mt. Everest before departure to Tibet on 10 April. The team has reached base camp and are preparing to move on to intermediate and advanced base camp.
Team members : Bill Burke , David Klein, Ryszard Pawlowski, Krystian L. Oleksiak, Dr. Atanas Skatov, . Edina Aniko Torok, Diplab Baidya, Debabrata Mukherjee. Team members have reached Thingri and will be reaching base camp on 16 April.
Not in the picture are Victor Bobok, Alexander Victorov, Melisa Arnot and Pasang Sherpa who will join the team later at base camp.
Trekking Group from Hungary : Mr. Antal Hubai, Ms. Eva Demeterne Torok, Mr. Daniel Fiantok, Mr. Peter Domotor, Mr. Tamas Sabjan
Sherpa Name List: Mingma Sherpa, Mingma Nuru Sherpa, Phur Gyaljen Sherpa, Chhiring Phinjo Sherpa, Ang Mingma Sherpa, Gyaluk Sherpa, Nawang Kalden Sherpa, Pasang Sherpa, Lakpa Tenzin, Ngima Kanchha Sherpa, Pemba Tenjin Sherpa, Kali Bahadur Basnet, Nuri Sherpa, Karna Bahadur Rai