2015-06-14
Appeal from the Himalayan Communities for rehabilitation and reconstruction of the earthquake affected communities of mountainous regions of Nepal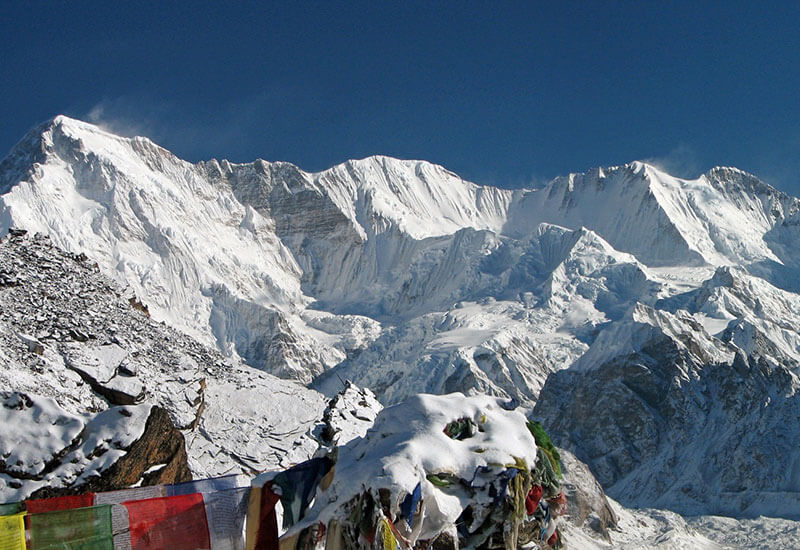 While the recent earthquake has left no one untouched, it has been disproportionally greater in the mountain regions of Nepal. Given the extensive degree of damage and destruction to homes, schools, hospitals, cultural heritage, monuments, community infrastructures, trails, bridges and businesses due to earthquake, any rebuilding efforts will have to be conducted in a strategic long-term manner. As the chairperson of the Climate Alliance of Himalayan Communities (CAHC), I represent Himalayan communities all over Nepal, in calling for greater commitment from Nepal's development partners in the overall national effort to rebuild the devastated communities in the mountainous regions.
Those of you who have visited the mountains of Nepal know very well that the Himalayan people are brave and independent bunch, whose warmth, affinity and sincerity melt even the hardest of hearts and soothe even the weariest of souls. Unfortunately, the 7.9 magnitude earthquake that struck several mountain communities on April 25, 2015 brought us unspeakable grief and devastation. Moreover the unpredictable earthquake of 12 May 2015 wrought damages and destructions on a whole new scale, wiping out any semblance of human civilization in the mountain communities. Any standing physical structures-homes, schools, hospitals, monuments, bridges were leveled to the ground. The already bereaved Himalayan people were left to grapple with rebuilding their lives.
Under normal circumstances, the Himalayan people are not one to hold out their hands for aid or wait around for others to fix their problems. However, given the enormity of the calamity and its aftermath, it is going to require more than just our indigenous knowledge and tools to see us through a swift and adequate post disaster recovery. This situation calls for massive humanitarian aid and assistance from international and national communities whether it is in the form of financial support or organizational connections. I therefore appeal to all mountain lovers to rise in solidarity and extend your support to the Nepali people.
While we realize overall construction and rehabilitation is a long-term process, the spirit to cope and persevered still remains high among us. We at the Climate Alliance of Himalayan Community (CAHC) have already started to put together plans for further relief and rehabilitation with focus on: relief material provisions, health and hygiene, education and child care, reconstruction and women's issues. All our works will be community driven, in which community members take an active role in identifying key concerns, deciding appropriate responses and implementing programs on the ground.
Trails and bridges are the primary mode of infrastructure for people traveling in and around the mountainous regions of Nepal. Stable, clean and accessible mountain trails and bridges are key to successful socio-economic development and income generation for the people in the mountainous regions, whose livelihood largely depends on ecotourism. In recent times, the increasing number of flow in the mountain areas has been straining the already inadequate infrastructure and causing environmental degradation in the areas. Thus, the improvement and maintenance of walking tracks and bridges is of the utmost importance for sustained development and swift post disaster recovery.
The recent earthquakes on·April 25 and May 12 that hit Nepal and its·mountain communities were detrimental to·trails and bridges.··Most of the traditional trails and bridges built by local materials and local designs have been completely destroyed by the earthquake. This has made life·for local communities extremely arduous, making even the simplest of tasks very challenging. Many mountainous communities have extensive damage that requires reconstruction of houses, schools, community infrastructures including cultural heritage (Gombas, Temples), trails and bridges in the mountain sectors.
The main tourism trails and bridges that lead to the·Langtang·Valley, Manaslu and Tsum Valley, Ganesh Himal, Helambu-Jugal Himal, Lamabagar and Rolwaling Valley have suffered seriously and trails and bridges to other regions, including the Everest region, are partially damaged as a result of the recent earthquake. In addition, multiple landslides have occurred making a number of sections extremely risky to cross or pass. These trails are not only vital for tourism, they are also essential for local people who depend on them for travelling to neighboring villages, bringing food and essential supplies, and transporting their products to the markets.
On the day of earthquake NMA, CAHC and HCI actively participated in the rescue of the victims of earthquake avalanche at the Base Camp of Mt. Everest. During the rescue activity 17 dead bodies were recovered at BC on 25th April 2015. On 26th April 71 injured were rescued from base camp of Mt. Everest (5350m) among them one died during medical treatment at KMC hospital. On 27th April 2015, 60 were rescued from Camp I (6100m) and 120 were rescued from Camp II (6450m). Apart from this NMA/CAHC/HCI actively participated in the rescue process at Langtang, Manaslu, Tsum Valley, Helambu and Jugal Himal region, Rolwaling region and other mountain region. Along with the rescue activities NMA/CAHC/HCI distributed relief material in different mountain region and other highly affected areas.
At present NMA, CAHC and HCI in partnership with UN World Food Program (WFP) is distributing food to the victims of mountain communities of Sindhupalchok and Dolakha district. And we are also repairing the trekking trails and bridges at that area which will be very helpful to continue tourism activity in near future.
CAHC and HCI are also in coordination with World Bank Group supporting the government for the Post Disaster Recovery Assessment which will help in rebuilding and rehabilitation in future. Also CAHC is closely collaborating with ICIMOD to assess situation of the danger of glacial lake outburst floods (GLOFs).
I cannot overemphasize the tragic situation that the mountain people are in while I write you this letter. Given the enormity of the disaster caused by this earthquake, whatever relief that is reaching the earthquake victims is insufficient compared to the needs of the people.
Our government, its development partners and hundreds of philanthropic institutions are trying to help the situation. However, the people living in the high mountains have little political clout and access to already scarce resources and are thus, the ones suffering the most.
There is an urgent need to develop adequate integrated infrastructure to provide safe destinations for locals and visitors in view of social, cultural, ecological, economic and financial considerations. In recognition of this situation, locals are seeking external support for the repair and reconstruction of integrated community infrastructures such as shelters, schools, hospitals, monuments, water supplies, trails and bridges destroyed by the earthquake in the worst affected areas of the mountainous regions.
Consideration should be given to safety and potential environment impact in the design of integrated community infrastructures. All integrated community infrastructures·need to be carefully designed, constructed and maintained for suitability to the local environment.
More than anything else, we need to get people back to work so that they can look after themselves. And that means we need to get tourism up and running as it is one of the biggest employers as an industry. I believe that our mountain lover friends can play a tremendously powerful role in that. We need to let the world know that the best way to help Nepal is by visiting her.
CAHC's implementation partner-another legally registered non-profit named Himalayan Climate Initiative- has signed an written agreement with the Government of Nepal – National Planning Commission – to mobilize and deploy 20, 000 young volunteers from all over Nepal into relief, rehabilitation and reconstruction efforts in wake of the deadly earthquake. These National Volunteers will work shoulder to shoulder with Nepal Army, Nepal Police and other government and non-government organizations to provide help to the earthquake affected parts of Nepal
Therefore, I along with the people·of the Himalayan Communities, seek your support to rehabilitate and rebuild the most affected mountain communities of Nepal at the earliest as possible.
Ang Tshering Sherpa
Chairman·Climate Alliances of Himalayan Communities (CAHC),
President of Nepal Mountaineering Association (NMA),
Honorary Member of International Climbing and Mountaineering Federation (UIAA)
Email:angtshering@asian-trekking.com