2015-08-02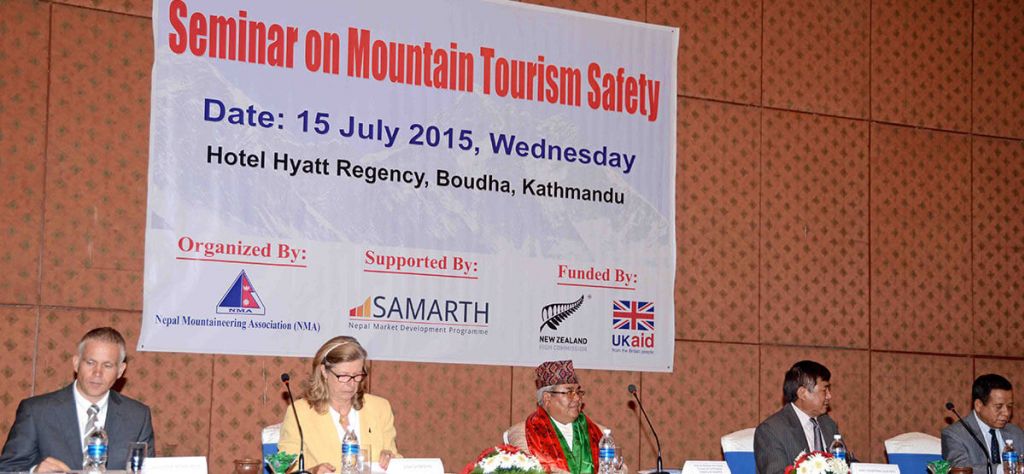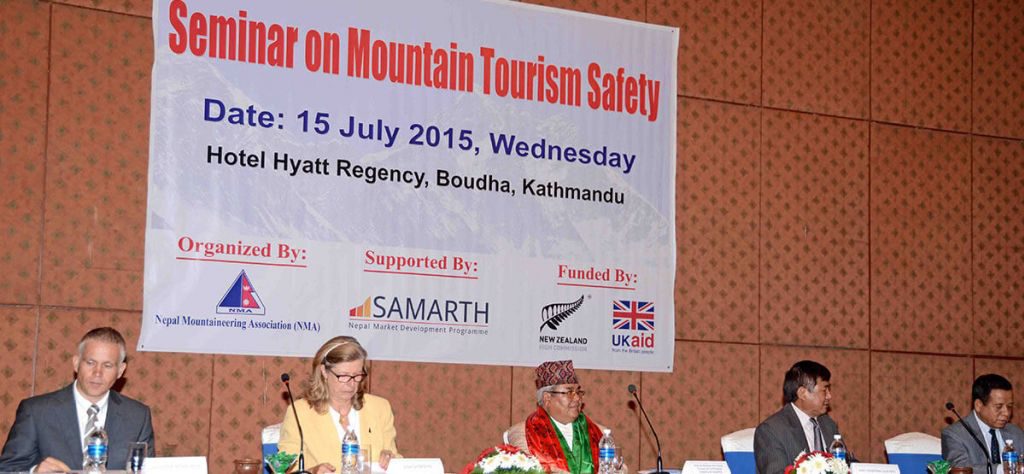 KATHMANDU, July 16:
In an effort to address the current state of safety conditions in Nepal, Nepal Mountaineering Association (NMA) organized a seminar on Mountain Tourism Safety yesterday on July 15, 2015 with the support of New Zealand High Commission, SAMARTH and UKAID. The recent earthquakes of April and May have naturally raised safety concerns for tourists considering travelling to Nepal. In response, the mountain tourism community is determined to make a concerted effort to thoroughly improve safety conditions of mountain tourism and communicate it to the international community of mountain lovers, source markets, travel companies and travel advisories.
In his opening speech, NMA President, Ang Tshering Sherpa, highlighted the "significant role tourism occupies in Nepal's economy by employing a major share of the Nepalese workforce, providing economic opportunities to those who need them most in rural regions." He said, "In the aftermath of two devastating earthquakes, reviving tourism is going to be an indispensible factor in the systemic and widespread recovery process of Nepal." Consequently, he mentioned that "In recognition of how prominently safety conditions feature in the priority of potential travelers to Nepal, the mountain tourism community is taking safety very seriously and is are taking measures to review areas of safety concern and improve them."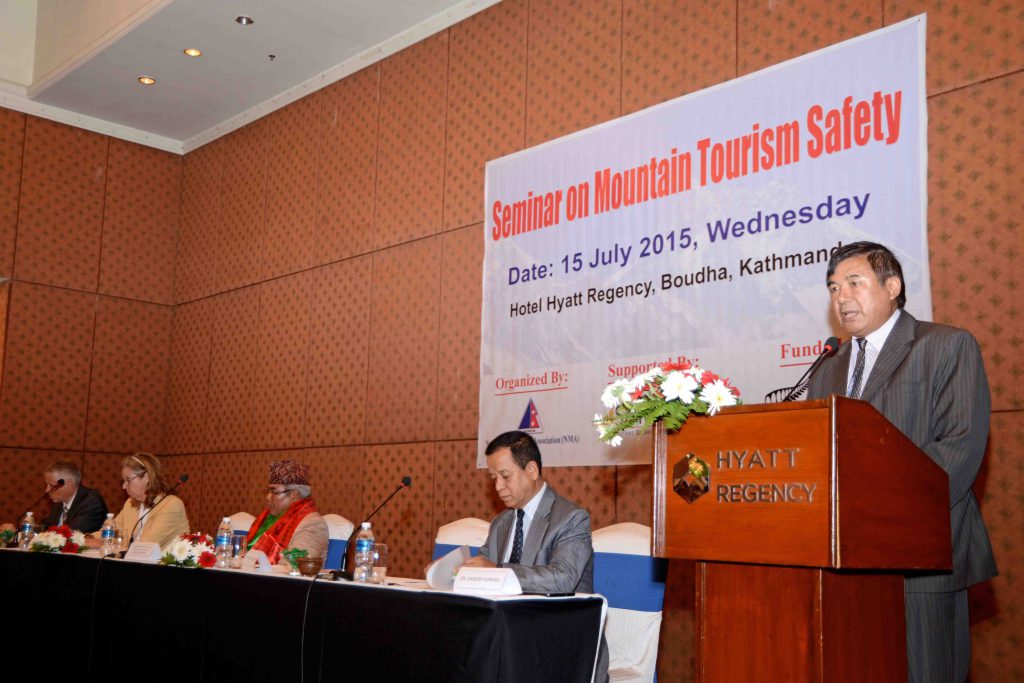 David Bamford, longtime friend of Nepal and a world expert on International Tourism Advisor, presented his assessment and recommendations to enhance safety condition in Nepal's mountain tourism. He reminded us to "pursue international best practices in areas such as skill development, mountain condition knowledge and communication system, as well as rescue treatment." He encouraged the community to form a safety council that would lead coordinated efforts to encourage mountain activities, foster safety and promote quality standards.
Over the course of the seminar, various experts in the mountain tourism field shared their insights and recommendations to improving safety conditions in mountain tourism. Dr. Buddha Basnyat, Medical Director of Himalayan Rescue Association, urged the group to give greater attention to the millions of pilgrims we get from India and could benefit from safety precautions of adjusting to high altitudes. Colonel Madan KC, a high-altitude rescue pilot, highlighted the importance of acquiring more helicopters and making them available for standby around the clock or during the day time. Mahabir Pun, award-winning social innovator, revealed his ideas for implementing and financing a smart "electronic tracking system," a GPS system to track the whereabouts of fellow trekkers, climbers and guides that would significantly speed up rescue operations. Krishna Manandhar and Dr. Rishi Sharma, DG, Department of Hydrology and Meteorology, informed the group about the high resolution numerical weather forecast system that is available and provides accurate and timely weather forecast. He also shared news of government's initiative to build porter shelters, shed construction, tourism village in earthquake affected areas and conduct safety assessment of trek routes and accommodations. Tulsi P. Gautam, Director General of Department of Tourism, suggested that mountaineering stakeholders could share the risks with government and create a joint crisis management call ready around the clock.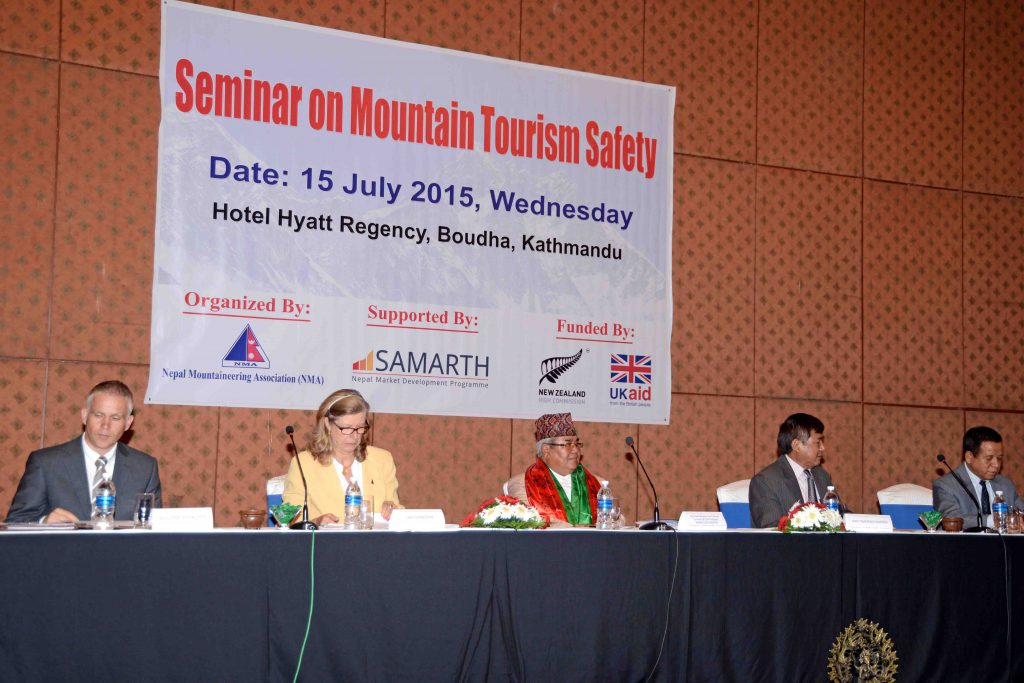 The event was graced by the presence of Kripasur Sherpa, Hon'ble Minister of Culture, Tourism and Civil Aviation, who extended his gratitude for taking positive steps to address mountain tourism safety. He pointed out that "only a fraction of the Nepal's heritage sites were affected by the earthquake and that the mountain tourism should seize the opportunity to turn the negative perception towards travelling in Nepal into a renewed positive image of the majestic Himalayan nation." He is confident that genuinely improving safety standards in mountain tourism will reflect in our confidence when Nepal opens her doors to mountain lovers.
Lisa Choegyal, New Zealand Honorary Consul to Nepal, acknowledged that "Nepal is taking positive steps to build back better" and shared the "encouraging news that New Zealand is the first nation to lower their travel advisory in an attempt to spur tourism back into Nepal."
Welcome Speech by Ang Tshering Sherpa, President, NMA
It gives me immense pleasure and great honor to have this opportunity to extend my warmest welcome on behalf of New Zealand High Commission, Samarth-NMDP, UKAID, NMA and myself to the chief guest, guest of honors and all the distinguished guests for your gracious present in this Seminar on Mountain Tourism Safety issues in Nepal.
Nepal is a country of contrasts. One would be hard-pressed not to find a landscape or a culture in Nepal that would not remind them of home: from the flat lands where Lord Buddha and Sita were born in the ancient times or the highest point on earth where man only set foot in modern times, Nepal has treasures to be discovered for all.
Many know that the highest mountains lie in Nepal but few know the warmth of the people of Nepal. It is this that makes Nepal a second home to those who have ever experienced her first hand. Nepal boasts 125 identified different ethnic groups, each with their uniquely own language, culture and tradition. This multi-ethnic diversity, living in harmony for centuries has weaved Nepal into one of the richest cultural tapestries in the world.
Peace, stability, safety and security of tourists, tourism industries, trade, commerce, industries and citizens and their properties constitute a fundamental and necessary environment for development. Without these prerequisites, Nepal cannot be graduated to developing Nation by 2022 and the vision 2022 "Transforming Nepal into Developing Nation" and the tenth year "National Tourism Strategic Plan 2015-2024" will be meaningless and no development will occur.
Nepal is a God gifted paradise nestled in the lap of the Himalayas with white snow capped mountains, roaring river valleys, ancient preserved cities with towering pagoda temples, cordial friendly people and fascinating folk culture. Nepal offers unique and ample opportunity for mountaineering, trekking and experiencing nature and culture all year around. It is a country with extreme ranges in elevation with the lowest point being 67m above sea level to the highest reaching 8,848m, also known as the summit of world's tallest peak, Mt. Everest. Mount Everest (Sagarmatha) has put Nepal at the top of the world's map as an ultimate adventure tourism destination.
The impact of recent earthquake has been disproportionately greater in the remote mountain region of Nepal. The Himalayas are most vulnerable to the impact of climate change and natural calamity. The impact of climate change and global warming are clearly noticeable in high Himalayan regions where we called our home. The rises of the temperature in the high Himalayan regions are more than double that of the global average temperature rise. White snow peaks and Himalayan glaciers are melting rapidly and retreating at an unprecedented rate, leaving in their place the highest and most unstable glacial lakes in the world restrained only by fragile moraines. The threat of Glacial Lake Outburst Floods (GLOF) is very real to us and could take place at any time any moment, washing out entire valleys and devastating downstream communities. It may take decades, or even centuries, to recover from such a vertical tsunami due to the inaccessibility and fragility of the landscape. The development process will also be put in jeopardy as infrastructure such as hydro power plants, homes, schools, community infrastructures, natural cultural heritage and roads risk sudden destruction.
We are also seeing changes in the climatic pattern causing severe wind, hail, snow and ice storms, more droughts in some areas, while experiencing more floods in others.
Due to the rise in temperature, local crops are being destroyed by the introduction of new bacteria, insects, birds and mammals, which were not known to the colder hills and mountains in the past, facing food shortage. While at the same time changes to the mountain wildlife habitat, ecology and vulnerability of new diseases, is leading to the extinction of various indigenous flora and fauna.
Nepal's important tourism industry is also under threat as the result of recent earthquake and increased temperatures are causing climbing and trekking routes to change. Alarmingly, there is a big increase in the number of frequency and magnitude of avalanches, serac collapses and rock falls on the mountains. The result of this was clear to see in the tragedy that unfolded on Mt. Everest avalanches killed 16 valiant Nepalese mountaineers on 18 April 2014, an unprecedented natural catastrophe of heavy snow fall and avalanches that occurred on 13th and 14th October 2014 in Annapurna, Dhaulagiri and Dolpo the region, killed 41and rescued 532 trekkers and climbers of various nationalities, the recent earthquake massive avalanche at Everest BC on 25 April 2015 has killed 18 and 71 injured climbers which were rescued immediately from EBC to KTM and the recent earthquake on 25 April, 12 May 2015 and its aftermath tremors has brought us unspeakable grief and devastation
There is an urgent need to repair and maintain the trails, bridges, roads and basic infrastructures in order to revive the economic opportunities to these mountain communities. At present NMA and TAAN in partnership with UNWFP are assessing the community and trekking trails, roads and bridges by the integrated team of experts and repairing and maintaining the trails, bridges and roads at that area which will be very helpful to continue tourism activity in near future. It is our collective efforts and interest of private sectors, government and development partners to revive tourism as soon as possible and at the same time does not compromise the safety and security of visitors. Also we are mobilizing the relief foods and materials by porter from road and air access and distribute to the affected mountain communities. With the financial support from DFID, Samarth, NMA and TAAN is working for building mountain huts and porter shelters in the popular mountaineering and trekking regions.
More than anything else, we need to get people back to work so that they can look after themselves. And that means we need to get tourism up and running as it is one of the biggest employers as an industry. We need to let the world know that the best way to help Nepal is by visiting her so that every dollars of tourists spending will help to revive our economy and rebuild our infrastructures even better than before.
Our mountains are our heritage, glory, prestige and future of our nation. The mountain region needs conservation and sustainable development for present and posterity. The mountains are gift from our Mother Nature and which we need to protect and respect them.
The Great Himalayan Trail described as "One trail to rule them all" traverses Nepal's entire mid-hills and the low mountains. The trek is organized to highlight the impact of climate change in the Himalayas and to promote the Great Himalayan Trail as the best tourism trail in the world which offers trekkers to experience extremely rich culture, breathtaking landscapes, diverse range of flora and fauna.
Mountains have always remained respected and the relationships between man and mountains have remained strong all through the ages. This makes it all the importance to re-new our efforts for the conservation of the mountains, specially the fragile Himalayas. The efforts of all the nations are required to prevent the deterioration of the fragile mountain environments, so that the survival of human kind is guaranteed.
We know that the Mountains are hotpots for Change. Globally mountains occupy 24% of terrestrial area; 12% of global population live in mountains; 40% of global goods and services come from mountains; caters to half of the humanity. In spite of such contributions mountains have not received enough attention both in global agendas and investments.
Through these seminars, workshops, events and conference we would like to draw the attention of the global community on the 'Issues of Safety of Sustainable Mountain Tourism Development and Adaptation to Change. Once again, I would like to extend my hearty welcome to you all
The mountains are not just the tourist destinations. They are also the water tower for three billion people in Asia. If the water towers are empty, it will cause humanitarian crisis. Therefore, saving the Himalayas means saving ourselves and our future generations.
So Let's THINK Sustainably, WORK together and ACT now! What we can do today should not wait for tomorrow to save the Himalayas.
Before I conclude my welcome notes, once again I would like to express my sincere and hearty welcome to everyone present here.
Thank you.