2015-09-02
Mountain Rescue in Nepal
Nepal is a beautiful Himalayan country situated between two large countries: China and India. Nepal covers the total area of 147,181sq.km. It is a country with extreme ranges in elevation with the lowest point being 67m above sea level to the highest reaching 8,848m, also known as the summit of world's tallest peak, Mt. Everest. Mount Everest (Sagarmatha) has put Nepal at the top of the world's map as an ultimate adventure tourism destination in world.
Nepal is a God gifted paradise nestled in the lap of the Himalayas with snow capped mountains, roaring river valleys, ancient preserved cities with towering pagoda temples, cordial friendly people and their fascinating folk culture. Nepal offers unique and ample opportunities for mountaineering, trekking, and experiencing nature and culture for visitors all year around. Visitors to Nepal can also pursue a range of adventure sports and recreational activities such as river rafting, kayaking, cannoning, paragliding, bungee jumping, sky diving, rock and ice climbing, mountain biking, bird watching, mountain flights, heli-skiing, sky diving, mountaineering climbing training, jungle safari etc.
Development of Mountaineering and Adventure Tourism in Nepal:
Nepal lived with self-imposed isolation from outside influences for centuries in spite of its natural beauty, extra ordinary natural and cultural heritage, and rich ethnic diversity, in particular Mt. Everest and spectacular scenery of the Himalayas. This self-imposed policy proved to be a best practice for the country for some time helping to preserve the natural and cultural heritage of multi-ethnic, lingual and religious groups and also to protect natural beauty and rich bio-diversity of Nepal.
However, this country no longer remained isolated as visitors started to explore the country's towering mountains, the world's highest peak, spectacular natural beauty, and rich bio-diversity and well preserved exotic culture and subsequently declared this beautiful Himalayan country as a unique and most popular destination in the South Asia. Consequently, Nepal has opened the door for mountaineers and adventure groups since 1950es and ever since Nepal opened up its peaks to climbers, Mountaineering and Adventure Tourism has become one of the most popular practices of alluring thousands of adventure seekers to Nepal every year.
The pioneer of all these mountaineering were the major starters of tourism in Nepal that dates back to the first successful ascent of Mt. Annapurna I in 1950 June 3, Mt. Everest in 1953 May 29 and Mt. Cho-oyu in 1954 October 19, Mt. Makalu in 1955 May 15 and Mt. Kanchenjunga in 1955 May 25 that opened the gateway for mountain tourism in Nepal. That encouraged the climbers and mountain lovers to continue their pursuit in carrying out mountaineering expedition to all other 8000m high peaks in Nepal, Pakistan and China. When we look back all the eight thou sanders were successfully summitted between 1950-1960 A.D. Hence, we can say the decade was a diamond decade in creating mountaineering history and thus we are right here to celebrate the Diamond Jubilees. And thus, the decade of 2010 to 2020 can be rightly called the decade of Diamond Jubilees.
Why Mountain Rescue in Nepal is Important and necessary? Because Nepal is a disaster prone country due to its steep terrain, a rugged and fragile geomorphic condition, high peaks and slopes, volatile tectonic processes, variable climatic patterns, very rural topography and other factors such as increasing population, poor economic condition, unplanned settlement, low literacy rate etc. Earthquake, floods, landslides, lightning, Glacial Lake Outburst Flood (GLOF), avalanche, epidemics often occur causing enormous physical damages and losses of human lives. Nepal is ranked 11th in terms of risk from earthquake and 30th in terms of flood risk according to global report on disaster risk as per 2003. All parts of the mountains are exposed to avalanche, landslide. Middle mountain is also exposed to debris flow. Most parts of middle mountains and Terai are exposed to severe flooding. Most of the rivers in Terai suffer from soil erosion.
Nepal experiences a catastrophic earthquake of magnitude 7.8 on 25 April 2015 followed by more than 400 aftershocks with magnitude up to 7.3. This is one of the worse earthquakes in recent history. It led to widespread of devastation in Nepal, affected 31 of the country's 75 districts and more than 8 million people (NPC 2015). Close to 9,000 people diet, 22,303 people were injured and over 100,000 people were displaced. The earthquake caused damaged to physical and economic infrastructures including thousands of houses, schools, hospitals, government offices, natural and cultural monuments, roads, irrigation canals and markets. More than 600,000 private houses were completely destroyed. The total damaged and loss caused by earthquake is estimated to be USD 7 billion, which is about one third of Nepal's domestic products (NPC 2015). All of this will continue to have a huge impact on country's economy as well as people's ability to maintain their livelihood.
Tourism plays a significant role in Nepal's economy by employing a major share of the Nepalese workforce and providing economy opportunities to those who need them most in rural regions. In the aftermath of the earthquakes, recovery of Nepal's tourism is going to be a vital factor in the recovery process of Nepal. Safety conditions being the major concern of potential to Nepal, the mountain tourism community is taking the concern very seriously and is also taking the measures to review areas of safety concern and improve them. There is an urgent need to repair and maintain the trails, bridges, roads and basic infrastructures in order to revive the economic opportunities to these mountain communities. At presentNMA, CAHC and TAAN in partnership with UNWFP are assessing the community and trekking trails, roads and bridges by the integrated team of experts and repairing and maintaining the trails, bridges and roads at that area which will be very helpful to continue tourism activity in near future. It is our collective efforts and interest of private sectors, government and development partners to revive tourism as soon as possible and at the same time does not compromise the safety and security of visitors. Also we are mobilizing the relief foods and materials by porter from road heads and air access and distribute to the affected mountain communities. With the financial support from UKAID, Samarth, NMA and TAAN is working for building mountain huts and porter shelters in the popular mountaineering and trekking regions.
More than anything else,we need to get people back to work so that they can look after themselves. And that means we need to get tourism up and running as it is one of the biggest employers as an industry. We need to let the world know that the best way to help Nepal is by visiting her so that every dollars of tourists spending will help to revive our economy and rebuild our infrastructures even better than before
The Nepal Mountaineering Association (NMA),since its establishment in 1973 is involving in the promotion of mountain tourism and protection of Mountain environment. It is the only one National Alpine Club that is working for the betterment of Mountain Tourism in Nepal.
NMAhas number of programmed planned to promote mountain tourism, efforts for the protection of the fragile mountain environment, honouring successful mountaineers, making mountaineering safer and secure by imparting various types of mountaineering climbing training, sports climbing training and high altitude rescue trainings, welfare schemes for mountaineering expedition workers, their families and communities. Further improvement and development of the International Mountain Museum in the beautiful scenic lake city of Pokhara. It is a first museum of its kind in the world. It is a tourism heritage on which the country itself can take pride. Similarly the works are in full swing on the International Mountaineers Memorial Park in Kakani. It is dedicated to those brave mountaineers who unfortunately lost their lives in the high Himalayas. This is but a small tribute to those who never looked back but tried to tread the path full of dangers and unexpected.
Climate Alliance of Himalayan Communities (CAHC)in a non-profit organization constituted of community and youth leaders representing varied ethnic communities living in the entire foothills of the Himalayas. The Alliance carries the authentic voice of Nepal's mountain communities in the national, regional and global debate on Climate Change and Mountain Development. With the first-hand experience of pains while living in Nepal's mountains, the members of the Alliance advocate for climate-resilient and inclusive development.
The impact of recent earthquake has been disproportionately greater in the remote mountain region of Nepal. The Himalayas are most vulnerable to the impact of climate change and natural calamity. The impact of climate change and global warming are clearly noticeable in high Himalayan regions where we called our home. The rises of the temperature in the high Himalayan regions are more than double that of the global average temperature rise. White snow peaks and Himalayan glaciers are melting rapidly and retreating at an unprecedented rate, leaving in their place the highest and most unstable glacial lakes in the world restrained only by fragile moraines. The threat of Glacial Lake Outburst Floods (GLOF) is very real to us and could take place at any time any moment, washing out entire valleys and devastating downstream communities. It may take decades, or even centuries, to recover from such a vertical tsunami due to the inaccessibility and fragility of the landscape. The development process will also be put in jeopardy as infrastructure such as hydro power plants, homes, schools, community infrastructures, natural cultural heritage and roads risk sudden destruction.
We are also seeing changes in the climatic pattern causing severe wind, hail, snow and ice storms, more droughts in some areas, while experiencing more floods in others.
Due to the rise in temperature, local crops are being destroyed by the introduction of new bacteria, insects, birds and mammals, which were not known to the colder hills and mountains in the past, facing food shortage. While at the same time changes to the mountain wildlife habitat, ecology and vulnerability of new diseases, is leading to the extinction of various indigenous flora and fauna.
Nepal's important tourism industry is also under threat as the result of recent earthquake and increased temperatures are causing climbing and trekking routes to change. Alarmingly, there is a big increase in the number of frequency and magnitude of avalanches, serac collapses and rock falls on the mountains. The result of this was clear to see in the tragedy that unfolded on Mt. Everest avalanches killed 16 valiant Nepalese mountaineers on 18 April 2014, an unprecedented natural catastrophe of heavy snow fall and avalanches that occurred on 13th and 14th October 2014 in Annapurna, Dhaulagiri and Dolpo the region, killed 41and rescued 532 trekkers and climbers of various nationalities, the recent earthquake massive avalanche at Everest BC on 25 April 2015 has killed 18 and 71 injured climbers which were rescued immediately from EBC to KTM and the recent earthquake on 25 April, 12 May 2015 and its aftermath tremors has brought us unspeakable grief and devastation.
PROTECTION OF MOUNTAIN ECOSYSTEMS AND COMMUNITIES:
It is our great concern to examine the issue of climate change and its implications for mountain regions and human communities.
It is also our concerns about the threat to the earth's living resources, especially to mountain areas and their human communities, from the effects of climate changes:
Many mountain areas are already highly vulnerable to the negative impacts of human activities: Loss of mountain biodiversity due to deforestation, overgrazing or excessive burning; Large-scale destructive or intrusive changes to mountain landscapes, such as mining, hydroelectric dams, irrigation or water supply projects, human infrastructures and tourism facilities;
Increasing pollution in mountain areas, from the contamination of air or water and the intrusive noise pollution from motor vehicles and aircraft;
Negative impacts on sensitive mountain areas from excessive numbers of visitors and lack of international standards to prevent further degradation.
Climate change multiplies these problems. It must be kept in mind that climate change in many mountain areas is advancing faster than in other parts of the world. We have special concerns for:
Safety of human communities (mountaineers, visitors) due to change in precipitation, diminishing of permafrost, destruction of forests needed for protection from avalanches and to stabilize slopes,
Rapidly-melting glaciers in many parts of the world, which are very important water sources during dry summers. These effects can be devastating for local communities and those living outside the mountains, even thousands of kilometres downstream from the mountains.
Loss of biodiversity; due to climate change, as specialized mountain plants and animals are extra vulnerable
Recognizes the enormous value of mountain areas as reservoirs of biological diversity and natural resources essential to humankind as a whole; as places of great spiritual and historic interest; as places with spectacular natural phenomena associated with climate and geology.
Recognizes also that mountain areas often contain fragile, easily damaged ecosystems and local lifestyles, which are sensitive to external intrusion.
Urges to consider both the implications of climate change for their own activities and also the opportunities they have to influence other organizations, from the public to the private sector, to greater understanding of the climate change crisis and to increase the readiness of these other interests to take action to tackle climate change problems.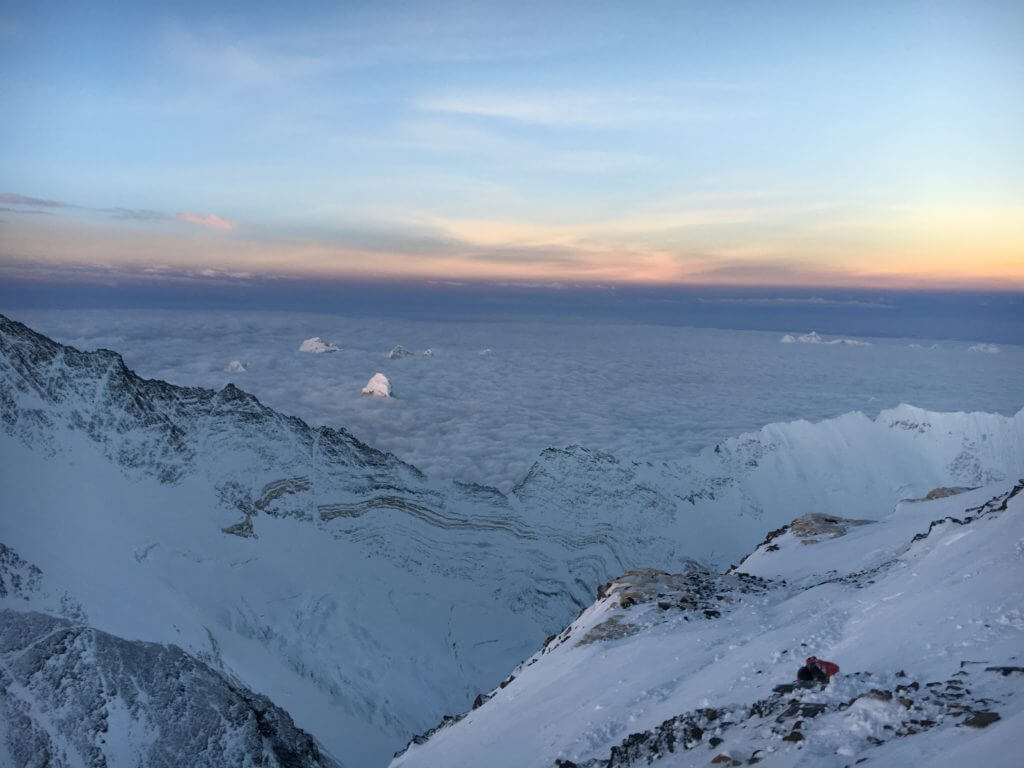 Incidents occurring due to Impact of Climate Change
For us mountain communities, and Himalayan climbers, the impacts of Global Warming, Climate Change and Glacial Lake Outburst Floods are the greatest threats we are currently facing.
Mt. Everest: Climate change is making a big difference on the mountain, especially as it is causing more frequent avalanches and rock falls than ever observed in the past. The whole mountain is undergoing drastic changes and that includes the icefall. The climbing route has a lot of exposed rock last few years due to the lack of snow cover. There were many instances of climbers being hit by falling rock. Some of the injuries were very serious and needed helicopter-evacuation.
Another problem is also the fact that climbing Everest and other 8000m peaks are now more and more mixed climbing with more rock exposure. This means that climbers need to be more technically skilled. Also climbing on the rock demands much more energy which may be causing a lot of less experienced/less fit climbers to become easily fatigued and vulnerable to exhaustion and to altitude problems.
Over the last few years we have seen a large increase in the numbers of accidents and incidence on the mountains. Our research shows that it is often individual climbers with no guiding support that gets in trouble. Furthermore these accidents and incidence are also seen on the normal or popular climbing routes which attracting less experience and less fit climbers to climb. We believed that by making mandatory to all climbers to hire high altitude climbing guides these accidents and incidence can be drastically reduced. Considering these factors, our proposals are:
On Mt. Everest and other 8000m mountains a ratio of one foreign climber to one high altitude climbing guide must be maintained and on 7000m and above a ratio of two foreign climbers to one high altitude climbing guide must be maintained.
Like on Mt. Everest last few years, it is also becoming clear that the old climbing routes cannot be taken for granted and the route has to be assessed and corrected each season depending on weather, temperature and snow conditions.
The Road Ahead:
Nepal Government needs to focus its effort on:
improving infrastructure and mountain waste management
Streamlining bureaucracy to make it more convenient to obtain permits
Reduce permit fees to less popular peaks to promote them
Strictly monitor environmental impacts
Run regular clean up campaigns
Remove the "one-team, one liaison officer" rule
Ensure law and order in the remote mountain districts
Improve health services and infrastructures in tourist areas
Improve transport management and infrastructure, e.g. improve airports (black-tops)
Supply clean water and sanitary facilities
Immediate rescue provisions
Assure political stability (i.e. no more strikes, closers, protests,… )
Provide tourist information centers at popular tourism hubs
Diversify 'tourism products'

Strengthen the national flag carrier (Nepal Airlines Corporation)
Make mandatory to use toilet bags (Restop bags) on the mountains
Inspire and encourage to alternative energies instead of fossil fuel
Similarly, trekking and, expedition operators need to:
Invest in training our staff
Provide good quality equipment
Prioritize safety over success
Involve and encourage all staffs for clean up and to bring down garbage, debris and human waste from the mountain for proper disposal
Be uncompromising on service quality and not sacrifice quality service for price
Promote mountains in remote areas (even though they are less profitable and are logistically complex)
Climbers and trekkers play the biggest role! … and must act responsibly:
They must put safety over success
Help others in need
Do not steal or use other climbers' equipment and gear without permission
Honor the "leave no trace" mentality
Respect the local customs & cultures
Follow the rules and laws of the host country
Prepare well and hire adequate manpower to support the expedition or trek (as conditions are becoming more challenging in the Himalaya)
Role of NMA, TAAN, HRA, NARA and other adventure tourism associations:
Reduce permit fees to less popular peaks to promote them
Strictly monitor environmental impacts
Run regular clean up campaigns to popular peaks
Improve infrastructures such as porter shelters, and mountain huts, in popular mountaineering and trekking regions
Supply clean water and sanitary facilities to trekking, mountaineering, rafting areas Immediate rescue provisions
Provide tourist information centers at popular tourism hubs
Diversify 'tourism products'
Make mandatory to use toilet bags (Restop bags) on the all peaks
Inspire and encourage to alternative energies instead of fossil fuel
Honor the "leave no trace" mentality
Respect the local customs & cultures
Follow the rules and laws of the host country
Prepare well and hire adequate manpower to support the expedition or trek (as conditions are becoming more challenging in the Himalaya)
Climate Change is making a big difference on our mountain, especially it is causing more frequent avalanches and rock falls in recent years than ever observed in the past. The whole mountains are undergoing drastic changes including the icefall.
Another problem is the fact that climbing Mt. Everest and other 8000m peaks are now more and more with mixed climbing with more rock exposure. This means that a climber needs to be more technically skilled. Also climbing on rock demands much more energy, which may be causing a lot of less experience/less fit climbers to become easily fatigued and vulnerable to exhaustion and to altitude problems.
Several incidents surrounding the avalanches, earthquake and other natural calamities on the Himalayan peaks such as Everest, Kanchenjunga, Manaslu, Annapurna highlights the crucial point that the unprecedented weather systems and natural calamities are impacting climbing and trekking in the Himalayas. We have to address this issue urgently.
Proposal of Mountain Rescue Cell Establishment:
Climate Change will continue to play a major role on Himalayan climbing and there is very little Nepal can do to stop this.
However, it is critical for us to adapt. As it is becoming clear that climbing in the Himalaya is going to become more and more dangerous and technical as time goes on, so we have conceived the idea of establishing MOUNTAIN RESCUE CELLS; a team of highly trained, fully equipped and experienced rescue personnel, doctors, and administrators which always remains acclimatized, that will be able to immediately dispatch and respond to emergencies in the mountains.
Mountain Rescue Cells should be establishment an appropriate locations close to the popular mountaineering and trekking regions with the provision of standby helicopter with the integrated teams.
Nepal will need the technical and financial support of all UIAA member federations, developmental partners and government to make this project a reality.
If we all committed to work together on these ideals, I am sure that Nepal could become the best mountaineering destination in the world. This is very important for Nepal, as it would go a long way in helping to eradicate poverty in our Mountains.
Tourism is one of Nepal's most important industries, income and employment generator and key to develop the remote areas.
It is in our collective interest to increase the number of visitors to Nepal and thus formulate appropriate policies that facilitate the tourism industry and at the same time does not compromise the safety and security of the visitors. We all are very deeply involved and committed to this vision.
Our knowledge of mountain geography and ecologies allows us to be highly influential witness to the climate change in our time and extends that influential beyond the mountain communities to everyone around us. Our mountains are our heritage, glory, pride and future of our nation. Mountain areas need conservation and sustainable development for the present and posterity.
The mountains have always remained respected and the relations between man and mountains have remained strong all through the ages. This makes it all the important to renew our efforts for the conservation of the mountains especially the fragile Himalayas. The effort of all the countries is necessary to prevent the deterioration of the mountain environment so that the survival of the human kind is guaranteed.
Through these very important seminars, workshops, events and conference of Development Project "Mountain Rescue in Nepal" we hope, would draw the attention of the global community on the 'Issues of Safety of Sustainable Mountain Tourism Development and Adaptation to Change. Once again, I would like to extend my sincere thanks and appreciation to EURAC, ICAR, High Altitude Medical Society and HRA.
The mountains are not just the tourist destinations. They are also the water tower for three billion people in Asia. If the water towers are empty, it will cause humanitarian crisis. Therefore, saving the Himalayas means saving us and our future generations.
So Let's THINK Sustainably, WORK together and ACT now! What we can do today should not wait for tomorrow to save the Himalayas.
Ang Tshering Sherpa
President of Nepal Mountaineering Association (NMA),
Chairman of Climate Alliances of Himalayan Communities (CAHC),
Honorary Member of International Climbing and Mountaineering Federation (UIAA)
IP President of Asian Mountaineering and Climbing Federation (UAAA)