2015-01-05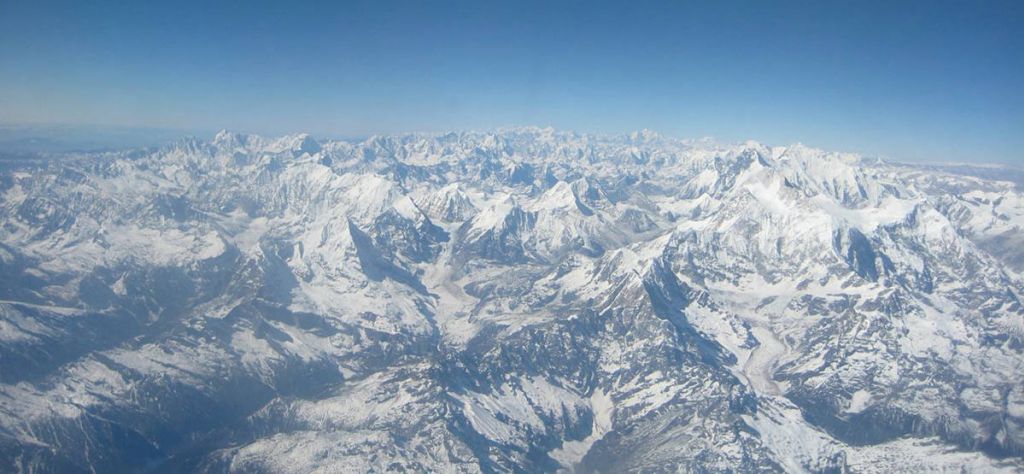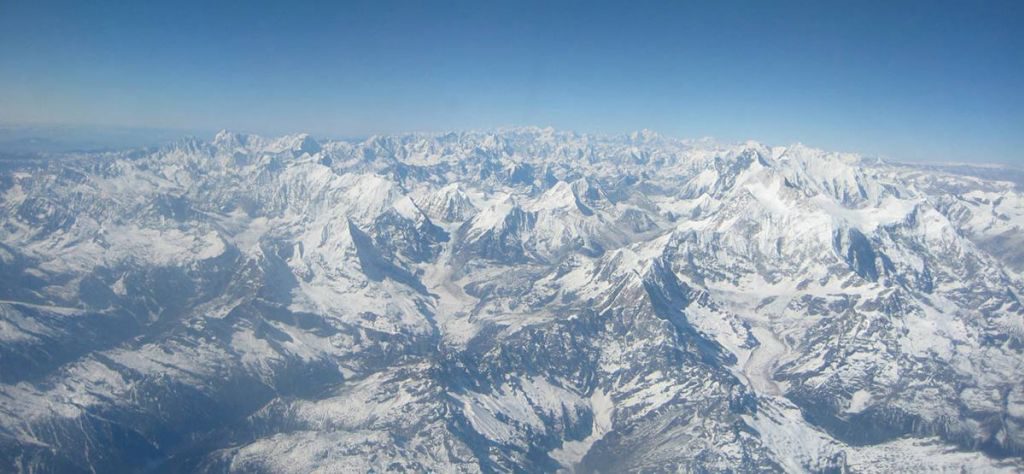 Marketing North East Region of India in Collaboration with Nepal: Presentation by Mr. Ang Tshering Sherpa, President of Nepal Mountaineering Association, Chairman of CAHC (Climate Alliance of Himalayan Communities), Honorary Member of UIAA (International Climbing and Mountaineering Federation), Immediate Past President of UAAA (Asian Mountaineering and Climbing Federation) and Prof. Dr. Hari Prasad Shrestha, Board Member of NMA and Advisor of CAHC.
On behalf of NMA, UIAA, CAHC and ourselves, we would like to express our sincere thanks and appreciation to the organizer for giving us this opportunity to give a presentation on "Marketing North East Region in Collaboration with Nepal" here in the beautiful town of Namchi today.
Both Nepal and Sikkim are considered the ultimate adventure tourism destinations in the world. The main reason is because we are home to the greatest mountains in the world. The charm of the high Himalaya have for a long time been built and promoted by daring mountaineers, trekkers cum writers.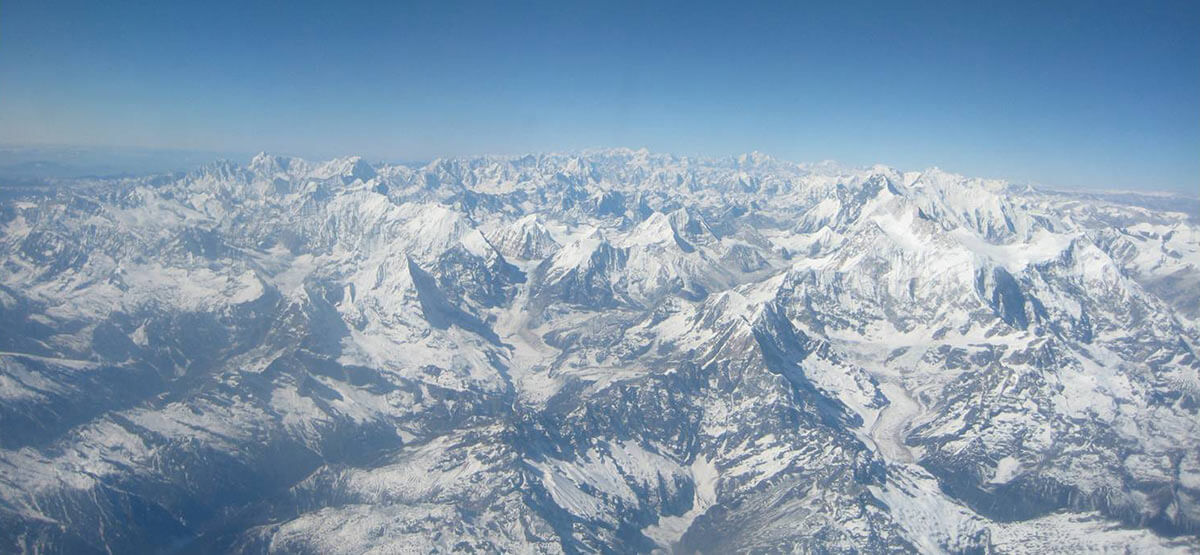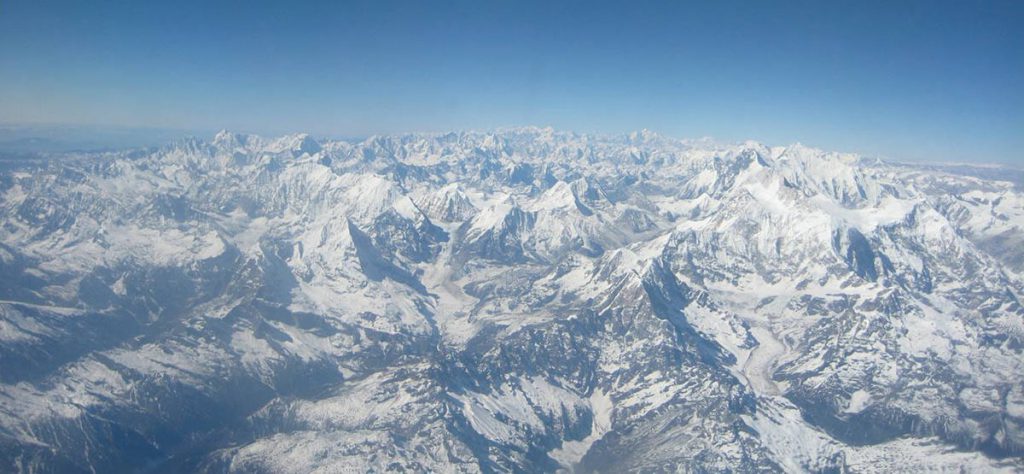 The tourism industry accounts for hundreds of millions of dollars in government revenue and employment for millions of people. However, both Nepal and Sikkim have been building up their tourism and mountaineering industry largely independently from each other. Now we see that by working together to formulate mutually beneficial policies, both Nepal and Sikkim can increase revenue and employment, stimulate the growth of local economies and greatly enhance global reputation and prestige as a safe, secure and quality destination.
Ever since Nepal opened up its peaks to climbers way back in 1949, Mountaineering and Adventure Tourism has become one of the most popular practices of alluring thousands of adventure seekers to Nepal every year. The first successful ascent of the first 8000m peak, Mount Annapurna by legendary mountaineers, Maurice Herzog and Louis Lachenal in 1950 was the pioneering milestone for all mountaineering activity in the Himalayas. Then came the year 1953, when legendary mountaineer Sir Edmund Hillary and Tenzing Norgay Sherpa successfully set the first foot on the summit of Mount Everest. These first historical mountaineering achievements has proved to be the stepping stone in generating interest and desire in mountaineers to climb the highest peak which grew more vigorously over the years. Numerous mountaineers were allured into climbing the highest peaks in the world including the other Himalayan peaks in Nepal. Early mountaineers are a source of inspiration to current and future generations.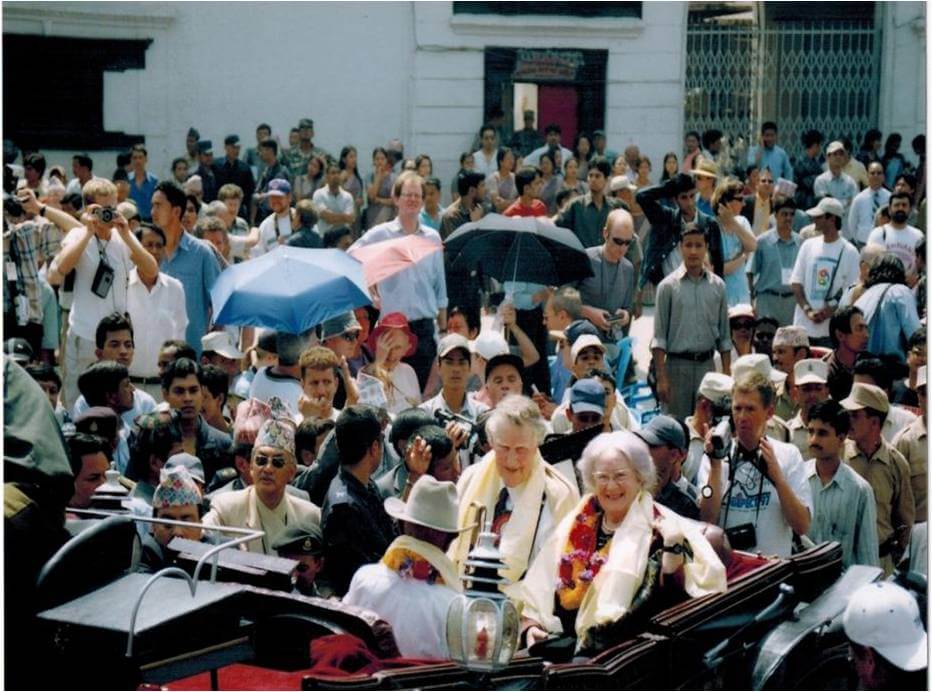 Mountaineering and mountain tourisms are one of the most important industries in Nepal for income and employment generator and key to developed remote rural areas and it is carried out under the supervision and direction of the Trekking, Mountaineering and Expedition Operators and agencies who are responsible for promoting, planning, organizing, operating and implementing mountaineering, climbing, trekking and adventure activities in Nepal and have full competency in their respective fields.
Mountaineering and mountain tourism needs trained and empowered women, traditional handicrafts; income stream comes from protecting intact culture, tradition, environment and education opportunities. It also needs government policies and strategies to ensure equitable benefit sharing, minimize adverse impact, promote community participation, strengthen hospitality and preserve the beauty of the environment for memorable visitor experiences.
Considering the significant importance of mountaineering and mountain tourism, the GoN has formed the 'Peak Profile Sub-Committee' under NMA President's convener ship to prepare the detailed Peak Profiles of 476 peaks in Nepal's Himalayas. The profile will contain all information of peaks in digital format as well as in booklets, which will make it easier for teams to plan their expedition. Our peak profile preparation also include many of the peaks on the border between Nepal and West Sikkim and we do believed that these information will be beneficial for all of us to promote mountain tourism in our region.
"Great Kanchenjunga Massif Circuit" circumnavigates Mt. Kanchenjunga Massif, the third highest mountains in the world: It is possible to make the world's most attractive and popular tourism destination if Nepal and Sikkim worked together to realize the "Great Himalayan Circuit." The "Great Kanchenjunga Massif Circuit" circumnavigates Mount Kanchenjunga Massif, the third highest mountain ranges in the world: In order to realize this premier tourism product the Khang La entry/exit points and Jhinsang La entry/exit points should be made open to tourism.
Other areas of the necessity for regional Cooperation:
Climbers can do multiple expeditions in one year, same man power can do different activities during different season as the main Himalayan climbing season is the Spring and Fall, whereas in Karakoram it is the summer.
— Cross border promotion of mountaineering activities so that climbers can be referred to trustworthy ground operators for long term mutual benefit for all.
— Help each other's mountaineering industries with training, know-how and expertise to establish global reputation of our region as an adventure tourism destination.
— Joint promotions of Himalayan Host Countries can send a stronger message worldwide.
Joint expeditions to encourage youth to learn and cooperate with each other
As everyone may be aware that the diamond jubilee of Mt. Everest 2013 and Mt. Cho-oyu last year was grand success and that has increased the confidence of GoN, NMA and other stakeholder in marking the diamond jubilee celebration of first successful ascent of world third highest peak Mt. Kanchenjunga and world fifth highest peak Mt. Makalu this year. In this august gathering, we would like to take this opportunity to invite our friends from Sikkim to Kathmandu, Nepal in month of May 20th 2015 in marking these historic events.
Nepal Mountaineering Association has number of programmes planned to promote mountain tourism, efforts for the protection of the fragile mountain environment, honouring successful mountaineers, making mountaineering safer and secure by imparting various types of mountaineering climbing training and high altitude rescue trainings, welfare schemes for families of mountaineers who have lost their lives while on mountains and other related activities. Apart from this, further improvement and development of the International Mountain Museum in the beautiful scenic lake city of Pokhara. It is a first museum of its kind in the world. It is a tourism heritage on which the country itself can take pride. Similarly the works are in full swing on the International Mountaineers Memorial Park in Kakani. It is dedicated to those brave mountaineers who unfortunately lost their lives in the high Himalayas. This is but a small tribute to those who never looked back but tried to tread the path full of dangers and unexpected.
The Himalayas are most vulnerable to the impact of climate change. The impact of climate change and global warming are clearly noticeable in high Himalayan regions where we the members of Climate Alliance if Himalayan Community called our home. The rises of the temperature in the high Himalayan regions are more than double that of the global average temperature rise.
White snow peaks and Himalayan glaciers are melting rapidly and retreating at an unprecedented rate, leaving in their place the highest and most unstable glacial lakes in the world restrained only by fragile moraines. The threat of Glacial Lake Outburst Floods is very real to us and could burst out at any time, washing out entire valleys and devastating downstream communities. It may take decades, or even centuries, to recover from such a vertical tsunami due to the inaccessibility and fragility of the landscape. The development process will also be put in jeopardy as infrastructure such as hydro power plants and roads risk sudden destruction.
Our important tourism industry is also under threat as increased temperatures are causing climbing and trekking routes to change. Alarmingly, there is a big increase in the frequency and magnitude of avalanches, serac collapses and rock falls on our climbing peaks. The result of this was clear to see in the tragedy that unfolded on Mt. Everest last year and an unprecedented natural catastrophe of heavy snow fall and avalanches that occurred on 13th and 14th October 2014 in the region of Manang, Mustang, Mugu and Dolpo killed 34, missing 7 and rescued 532 trekkers and climbers of various nationalities. Almost all casualties are individual travelers who went with no guiding supports, no proper arrangements and equipments. Considering these factors, the planners, operators, organizer and policy makers must think seriously to formulate a policy for the safety and security of these types of tourists.
But the problem is not just a local issue. Once the snow peaks and glaciers are completely gone, billions of people throughout Asia will lose their vital water sources. We fear to think what kind of catastrophe this could be.
It is important that Himalayan communities come together and advocate for our cause. The Climate Alliance of Himalayan Communities is such a national civil society led initiative to present the issues from the Himalayas to the world. The alliance comprises of local community leaders and influential representatives from the different sections along the Great Himalayan Trail (GHT). The members of this community will play active roles in their communities to raise awareness and understanding of climate change through a national, regional and global initiative. This alliance will also play an active role in bringing local issues of Himalayan communities to the forefront of national debate.
The alliance can play a constructive and cohesive role in the designing of the world's first Climate Smart-Great Himalayan Trail. With the support of the global community, sustainable development can be taken to hundreds of communities along the GHT that could help to promote growth whilst also increasing resilience of highly vulnerable communities. The Great Himalayan Trail described as "one trail to rule them all" traverses Nepal's entire mid-hills and the low mountains.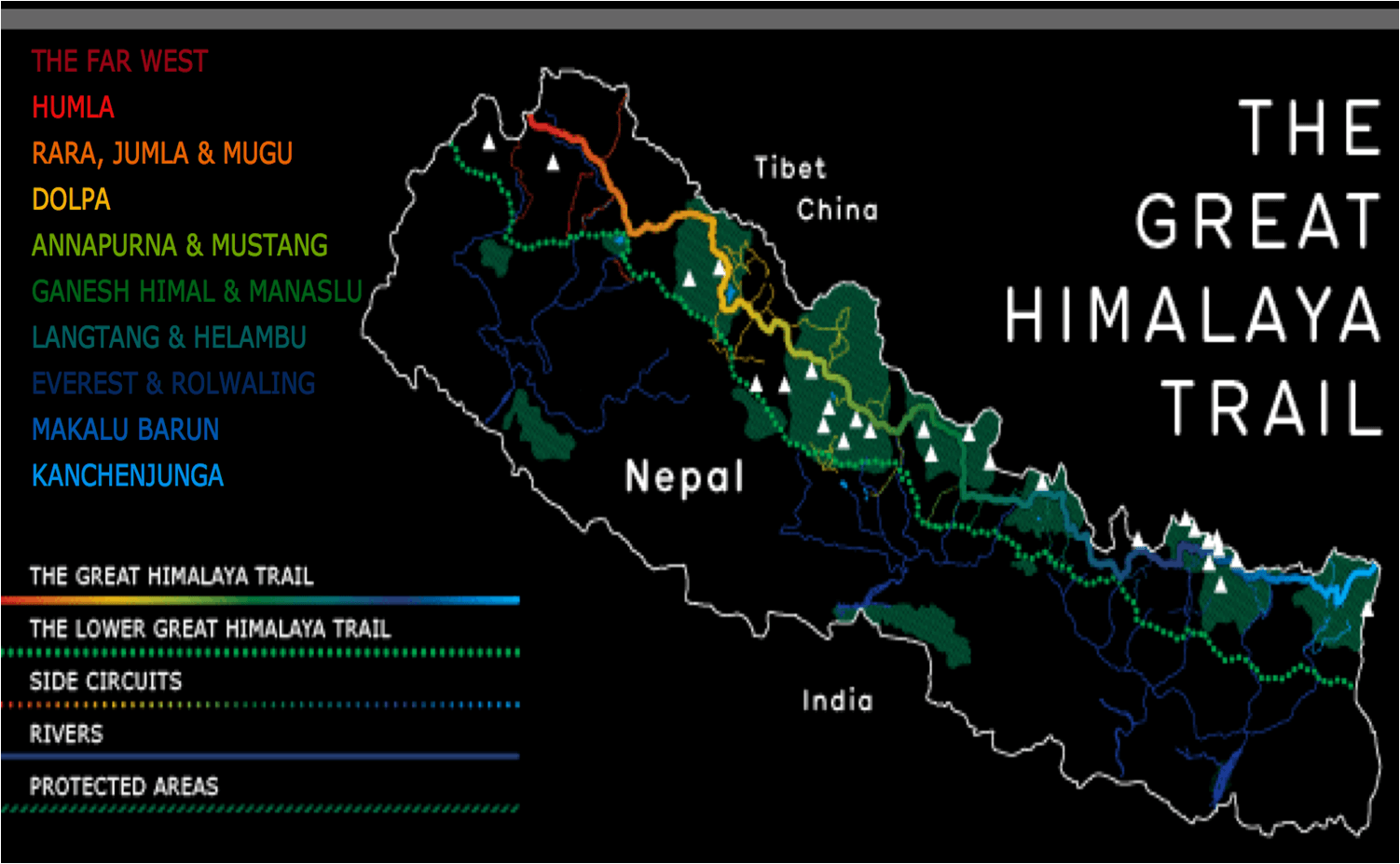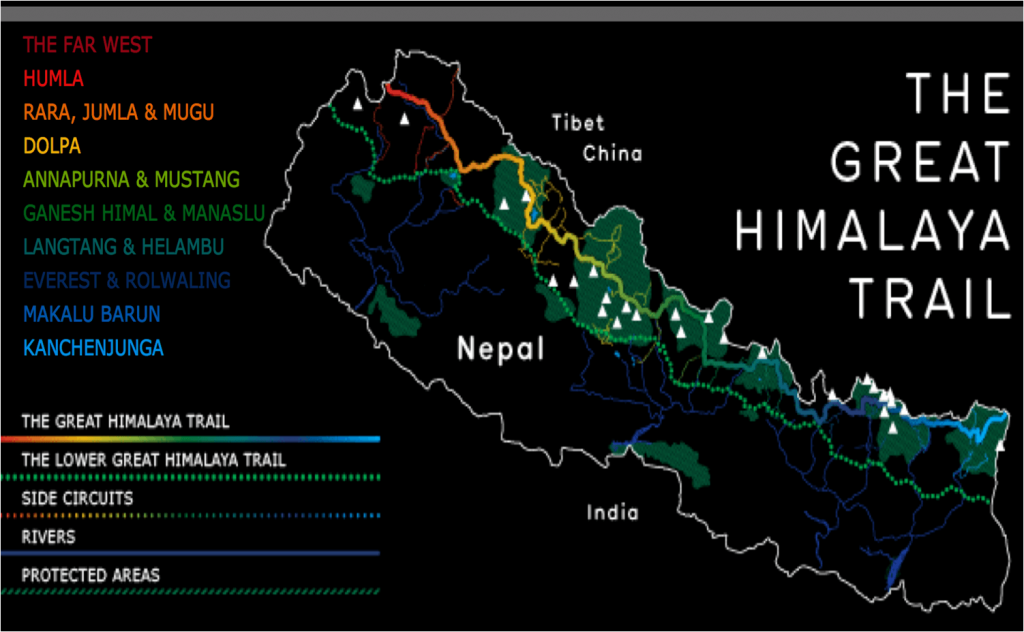 Renowned mountaineer Apa Sherpa (21 time Mt. Everest Summiteer) and Dawa Steven Sherpa (Double Mt. Everest Summiteer and Leader of Eco Everest Expedition organized every year since 2008 with dedication for the protection of the mountain environment) embarked on a 1555 km and 99 days long GHT on 15 January 2012. The event was endorsed by the climate change council, the apex body of Government of Nepal headed by Rt. Hon'ble Prime Minister.
The trek is organized to highlight the impact of climate change in the Himalayas and to promote the Great Himalayan Trail as the best tourism trail in the world which offers trekkers to experience extremely rich culture, breathtaking landscapes, diverse range of flora and fauna.
Over the longer term, the GHT has the potential to traverse the length of the Himalayan Range stretching through impoverished mountain areas of Pakistan, India, China and Bhutan.
Mountains have always remained respected and the relationships between man and mountains have remained strong all through the ages. This makes it all the importance to renew our efforts for the conservation of the fragile mountains. The efforts of all the nations are required to prevent the deterioration of the fragile mountain environments, so that the survival of human kind is guaranteed.
We now know Mountains are hotpots for Change. Globally mountains occupy 24% of terrestrial area; 12% of global population live in mountains; 40% of global goods and services come from mountains; caters to half of the humanity. In spite of such contributions mountains have not received enough attention both in global agendas and investments.
As you are all aware of the changing environmental scenario, we expect concrete suggestions and solutions forthcoming from these events and conferences which will be for the welfare of the people in general and the mountain people in particular.
The mountains are not just the tourist destinations. They are also the water tower for three billion people in Asia. If the water towers are empty, it will cause humanitarian crisis. Therefore, saving the Himalayas means saving ourselves and our future generations.
So Let's THINK Sustainably, WORK together and ACT now! What we can do today should not wait for tomorrow to save the Himalayas. Thank you very much for your attention.