2011-02-16
Dear Friends,
Date: 10 March 2009.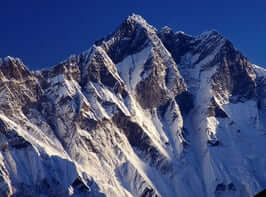 Tashi Delek and Happy Lhosar. May this New Year bring you all great happiness!
Once again it is almost time for another Climbing Season. With only less than one month left before the Expeditions depart to the mountains, we at Asian Trekking are busy preparing for this Spring Season, as all our expedition will be in the Nepal Himalaya.
Due to the feeling of uncertainty in the North Side of the Himalaya, most of our clients, and other expeditions, have decided to climb from the Nepal side. It seems that Nepal will be very busy this expedition season.
As you may have noticed the Asian Trekking website has been updated and has a new look now. I am personally updating all the news and information. Since this is an ongoing process, I would greatly appreciate your opinions and feedback to make our website effective and informative.
This Spring season Asian Trekking will have internet access on events taking place on Mt. Everest. My son, Dawa Steven Sherpa, will be leading Eco Everest Expedition 2009. Through the News Section of the Asian trekking website, Dawa Steven and I plan to keep you updated about developments taking place during the expedition period.
Apa Sherpa, 18 times(World Record) Everest Summiter, is returning as the climbing leader of Eco Everest Expedition 2009 for his 19th summit bid on Mt. Everest.
While the overall leadership of the Eco Everest Expedition 2009 will be handled by my son Dawa Steven, Pertemba Sherpa who climbed Mt.Everest from three different routes, will be the Base Camp manager for all the Everest and Lhotse Expeditions of Asian Trekking in the Spring.
Eco Everest Expedition 2009 will once again offer cash incentives to all climbers to bring down any garbage left by previous expeditions. We will be offering Rs. 100 per kilo of garbage. As part of the established Eco Everest Model, the Eco Everest Expedition 2009 will be using Clean Mountain Cans and the Restop bags to make sure that no human waste is left on Mt. Everest by the team.
Similarly, all Asian Trekking Expeditions to other mountain will also be using the Restop bags to keep our mountains clean. Dawa Steven will be visiting the other expedition teams at Everest Base Camp to encourage them to use Restops. He is taking extra Restop bags for those who are interested to use them.
We are also pleased to announce that Asian Trekking is partly sponsoring the Imja Tsho Action Event 2009 in June this year. This Event is an initiative by the Sherwi Yondhen Tshokpa (Sherpa Students Group) supported by iDEAS, a non-profit organization established by Dawa Steven to encourage the youth and members of the mountain communities to be more active in taking care of our environment. Asian Trekking hopes that our support will make this event successful and will pave the way for more initiatives by the mountain communities. Please visit our website if you would like to participate in the event.
We recently conducted a Climbing Refresher course for 28 of our Sherpas here at our own ASTREK Climbing Wall in Kathmandu. The 10 day course has helped them to sharpen their skills and to work as a team before heading off to the high mountains. Some of the topics covered were rescue, technical climbing, rope work and knot making, anchoring, and other important safety issues.
As part of an iDEAS project, three of our Sherpas have undergone a basic filming training course. It is our hope that soon many more of our field staff will be skilled in filming for clients during treks and expeditions. We hope to add this service to our programs so that our valued clients can take their memories home with them on DVD. Of course, the intention goes beyond this: having skills to film will not only help supplement the Sherpa's regular earning, but will also go a long way towards helping to preserve our culture and heritage. This will help focus the energy, especially of the youth, in something creative and will also open avenues for them to explore possibilities that they may not have thought about, or even imagined, in the past.
I look forward to seeing you in Nepal. If I, my family and my team can be of assistance to you in any way, please don't hesitate to let me know.
Best Wishes,
Ang Tshering Sherpa
Founder Chairman