2013-09-06
MANASLU EXPEDITION UPDATE
8-Oct-2013: Ravichandran , Alejandro and Edgar are returning back to Kathmandu after their unsuccessful summit attempt. On the summit day there were more than 50 climbers waiting to summit. The sudden change in the weather forced all the climbers to return back. Alejandro and Edgar are returning back via the Larkyala pass to Beshishar.Presently they are in Kathmandu waiting for their equipments.
6-Oct-2013: Alyssa has also decided to cancel the summit attempt due to sudden weather changes , snow and strong winds. She left base camp on the 10th and reached Kathmandu on 17th Oct.
As per message received from base camp, Alyssa Azar and Gyaluk Sherpa is leaving for camp 1 today.
This is their schedule for the summit bid as per weather window.
6 sep : camp 1 to 2
7 sep : camp 2 to 3
8 sep : camp 3 to 4
9 th summit attempt
Both Alyssa and Gyaluk are in good condition and have already acclimatized upto camp 2.
Meanwhile Ravichandran and Chhiring Phinjo have turned back from their summit bid due to unfavourable weather conditions. Alejandro and Edgar are doing fine and have given up their summit attempt
. Ravi will be leaving base camp tomorrow ( 6 sep)
26-Sep-2013
As per message received from base camp, Ravi Chandran and Alejandro have successfully acclimatized upto camp 3. They are now resting at base camp and scheduled a summit attempt on 1st October.
Meanwhile, Alyssa , Gyaluk , Sonia Taylor and Bhuwan reached Samagaon. They will be reaching base camp on the 27th.
EXPEDITION UPDATE -INT. MT. SHISHAPANGMA 26-SEP-2013
All 4 members Eelco, Frank, Jakob and Danillo are back at base camp. They have made successful acclimatization trip upto camp 2 and 3 and are waiting for a summit window.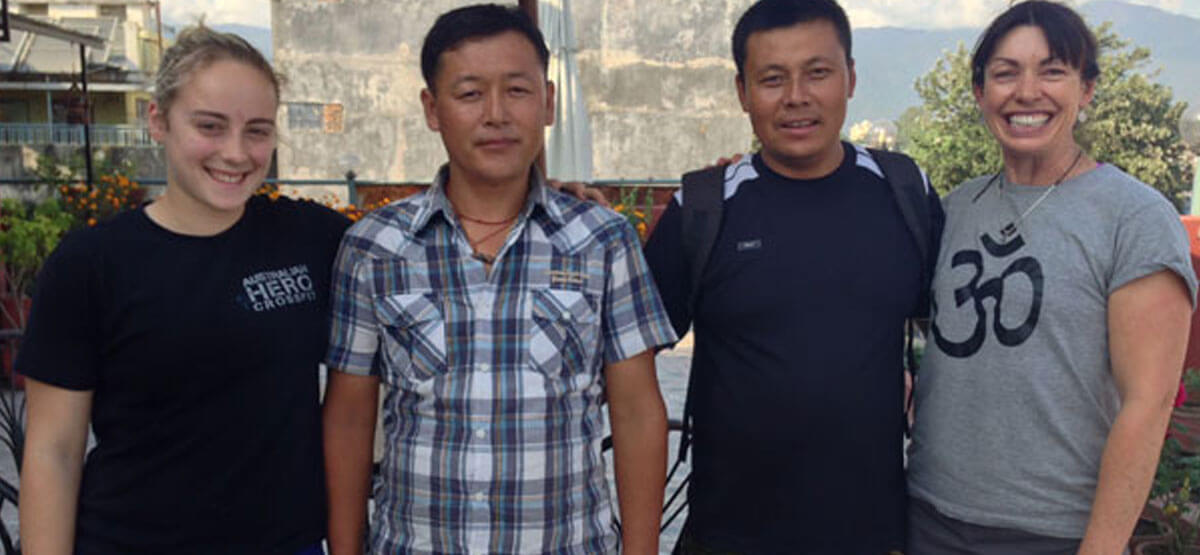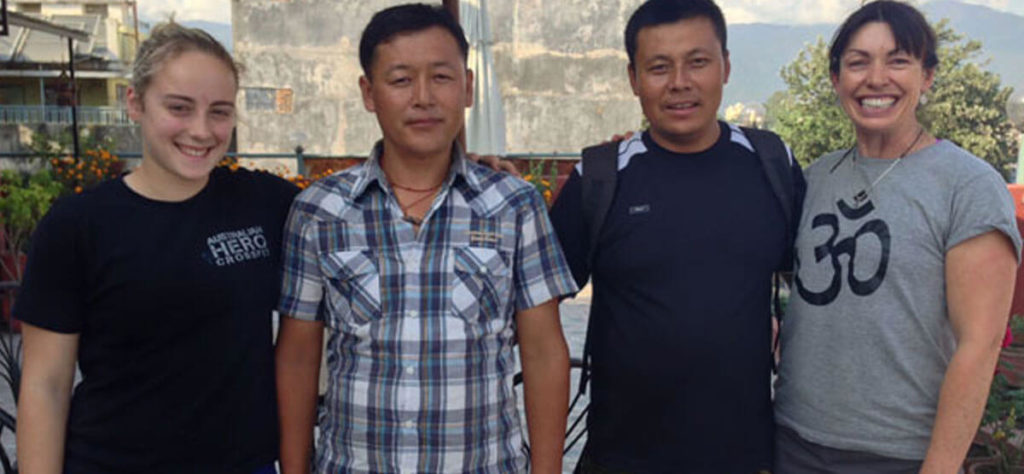 Asian Trekking's Mt. Manaslu expedition member Alyssa Azar from Australia with climbing sherpa Gyaluk Sherpa , Bhuwan Limbu trek guide and Sonia Taylor accompanying Alyssa until base camp left for Arughat this morning
. The team is scheduled to reach base camp on 27th September.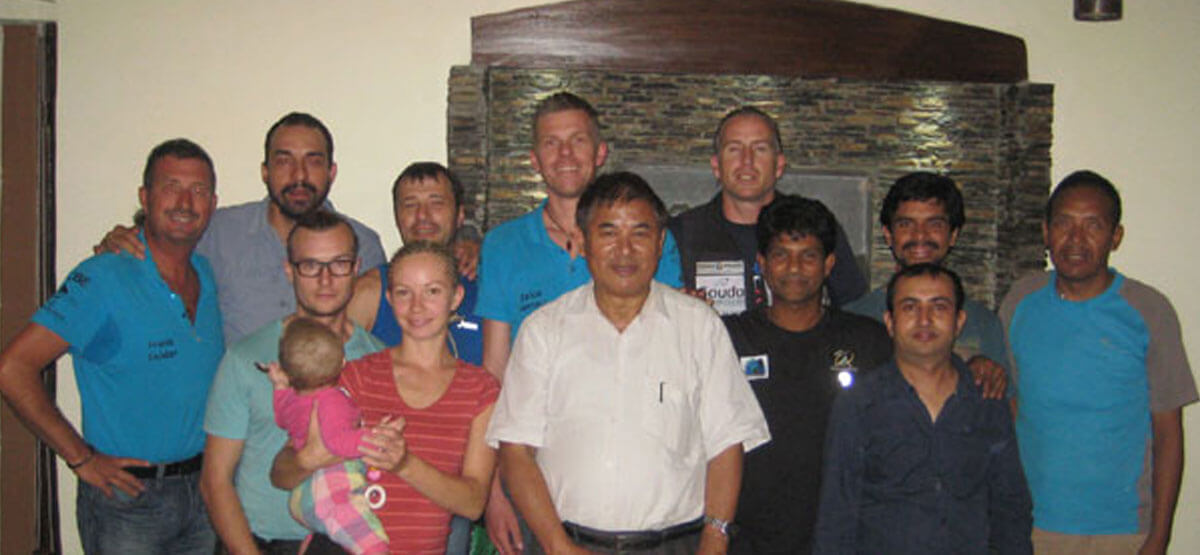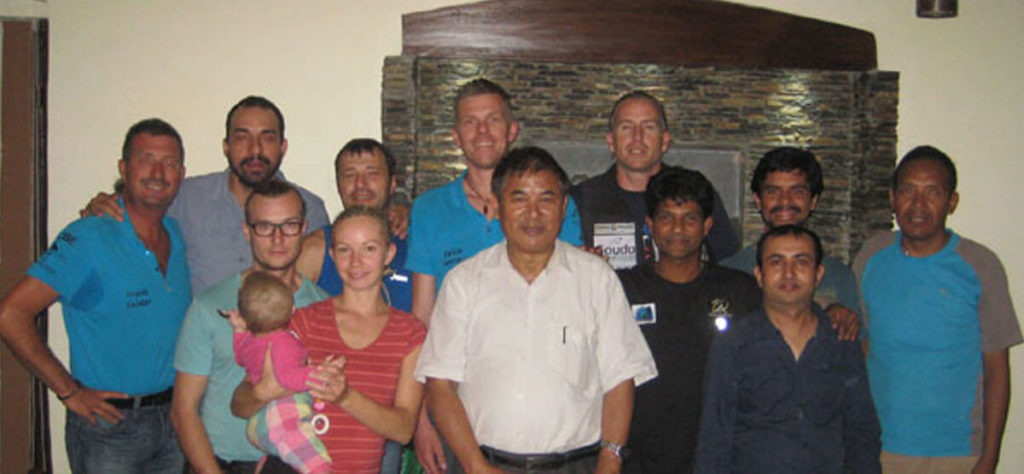 Standing backrow from left : Frank Josef Felder from Germany climbing Shishapangma , Edgar Alfonso Guariguata Herrera from Venezuela climbing Manaslu, , Valerii Shamalo from Russia climbing Manaslu, Eelco Jansen from the Nederlands climbing Shishapangma, Jakob Urth from Denmark climbing Shishapangma, Alejandro Jose Lamus Varela from Venezuela climbing Manaslu and Chhiring Phinjo.
Standing front row left : Ruslan Kirichenko from Russia climbing Manaslu, Irina Illarionova from Russia with baby Mila as trekkers, chairman Ang Tshering Sherpa, Ravi Chandran Tharumalingam from Malaysia climbing Manaslu and Sanjay Baral ( Kaju ).Danilo Callegari from Italy climbing Shishapangma could not attend due to personal reason.
Alyssa Azar from Australia will be joining Manaslu team as she is scheduled to arrive on the 16th Sep.Manaslu expedition is supported by Padam Magar as expedition cook, Ram Luitel as asst cook , Chhiring Phinjo and Gyaluk Sherpa as climbing sherpa.
As scheduled Manaslu team left for Arughat early morning (6th Sep ) and is scheduled to reach Samagaon on 14th Sep. As scheduled Shishapangma expedition team is departing for the Tibetan border on 7th Sep and will reach base camp on 10th Sep.
Expedition is supported Pemba Sherpas as expedition cook.